Camp for a Day!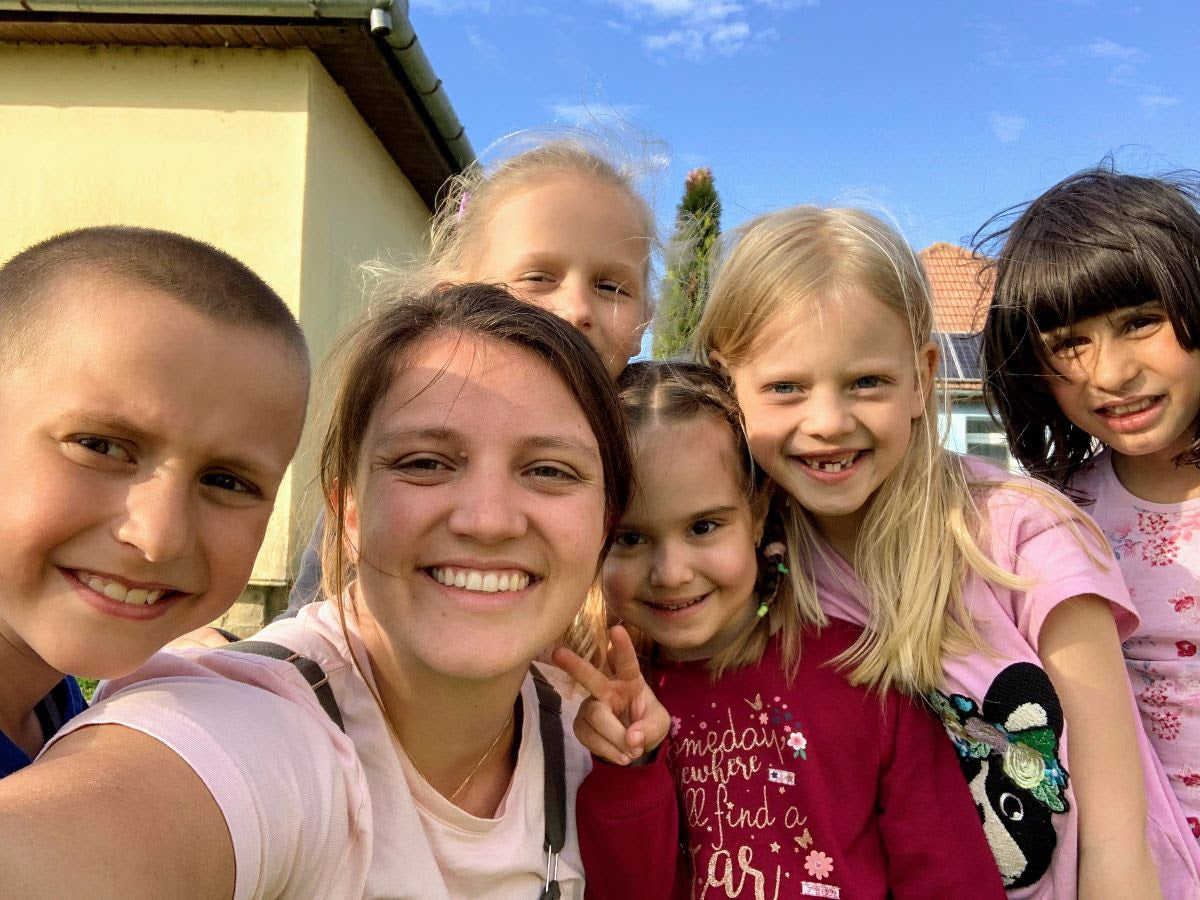 Zoë & MaryJane's main mission was to personally deliver 500 pounds of valuable medical supplies to our volunteers near the Romanian / Ukrainian border. Even though they had several fiery darts thrown at them during the 27-hour journey to Romania, God smoothed their path at each turn and brought them and all the bags to safety. After handing off the financial donations and bags to our Ukrainian volunteers, Zoë & MJ started a long zig zag journey across the country (through the Carpathian Mountains) to the other side of Romania. Once they arrived, and were a little bit rested, they were ready to spend some time with our kids and moms there
Rendezvous in Romania
It was so good for our volunteers to see the kids again! And of course, the kids were super excited to see Zoë & MJ again! Since leaving their orphanage in war-torn Ukraine, 6-8 weeks ago, most of these kids and moms were really starving to see some familiar faces – especially those all the way from America! Zoë & MJ planned a fun filled day, met with the Romanian orphanage staff and volunteers, "advertised the Camp for Day" to take place the following day, and then headed out to the stores to buy supplies, treats, and other essentials that the Romanian orphanage needed.
A Day of Fun – Fun for All
Zoë reported, "We had several cool rotations. We started with camp songs! I played the guitar while Inna and Olga sang and did the motions. Then, MaryJane did a tooth brushing demonstration, and everyone got a new toothbrush. Craft-time was next, and everyone really liked quilling. Next came snacks and "morning exercises" but we did them in the afternoon. And then a fun Bible lesson from the Rocheva girls. Last but not least, it was outdoor fun -- soccer + ice cream + free time. So fun!"
Humanitarian Aid = Zero Fresh Fruits & Veggies
Before traversing back across the country to head home to the USA, our volunteers made another trip to the Romanian version of Costco, to stock up on fresh fruits and veggies for all the houses at the orphanage. In fact, it is not really an orphanage like it is in Ukraine. In Romania, this is really more of a residential home. Village of Hope is made up of 5 homes all on one property, and our Ukrainians are taking up 3 of these homes. (One is for the Romanian orphans, and the other is an empty summer house.)
Everyone Needs Good Water
Many good people bring humanitarian aid to the Village of Hope, since word has gotten out that it is housing Ukrainian refugees. Although there are a lot of good things that are brought, the one thing that is NOT provided are fresh fruits and veggies. Another thing that is missing is bottled water. There is plenty of water in the tap, but it can't be drunk as is. MJ had the idea to buy several water pitchers with lots of extra filters, for each of the houses. Then, she gave the moms & kids a lesson on how to filter the tap water, and test it, so that it can be drunk. Everyone was very interested in this "new" solution to a problem they have been battling.
Go Ahead. Hit Reply.
Another problem that the moms are battling is alcoholism and chronic smoking. As expected, some of the moms have had setbacks, but we pray that this new living situation supports them enough to see the value in their children and at the same time see the snare of addiction. Please continue to pray for our Ukrainian moms, kids and those that care for them in Romania. And please keep praying for all of the kids and moms who would not evacuate the orphanage and who are still in Ukraine. If you would like to be considered for short-term mission trips to Romania or Ukraine, please hit reply to this email, and let us know!