Last School Bell in Ukraine has Rung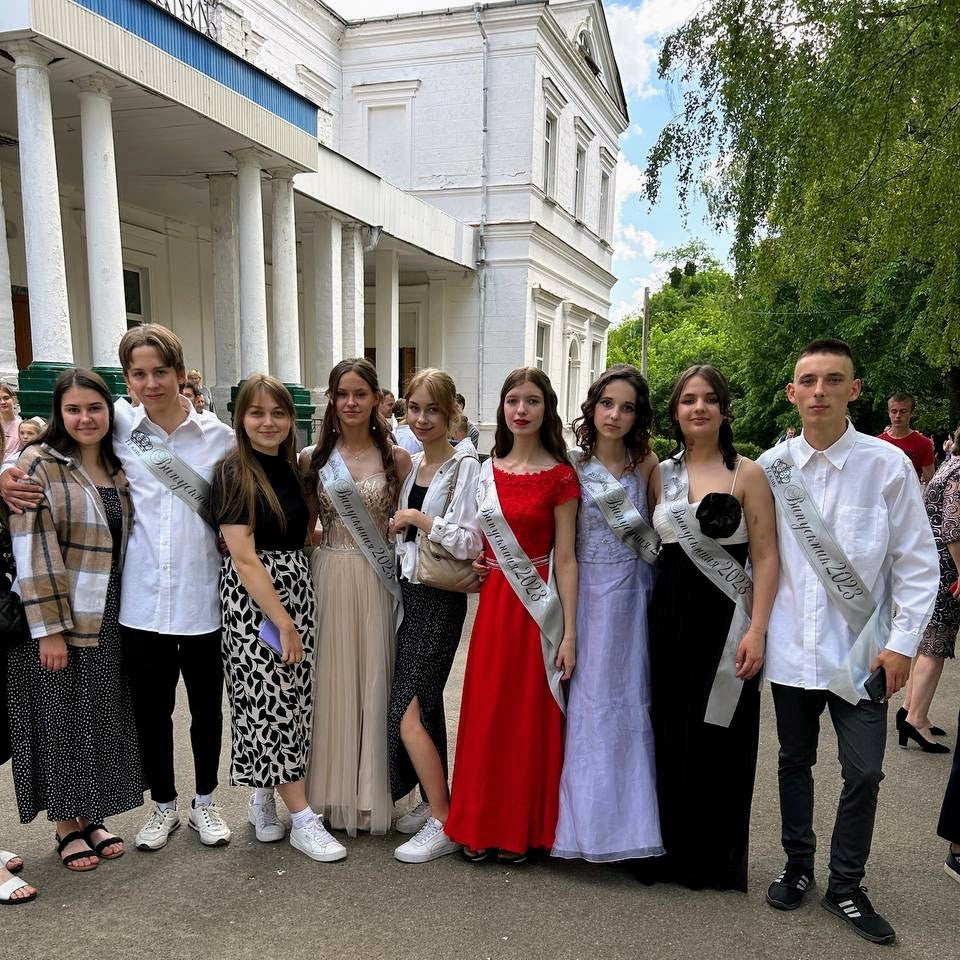 School's Out for Summer!
The Last Bell has been rung in Ukraine, and school is officially out for summer! That famous Alice Cooper song is not well known in the orphanage, but nonetheless, children all across the country of Ukraine, those that are now displaced in Europe and in the USA, and indeed those students who switched to online learning in the face of war, are celebrating that school is out for summer! Last week, our kids celebrated Last Bell, complete with 11th grade Graduation and our dedicated team made sure they had an audience! They brought flowers, chocolates, ice creams and most importantly themselves. I hated having to miss Last Bell and celebrating with the children and teachers. I traditionally give an end of year speech, and this year (as last year) Inna had to read my speech at the closing ceremony, in my stead. Here's what I wrote, and here are some of the gorgeous photos taken that day…
Cyndee' Last Bell Remarks
 "Greetings from America to my wonderful friends, parents, staff members and especially to all of the dear students gathered here today!  Yes, it's me – Cyndee – your American friend, speaking to you, as Inna reads my words.
 
Do you think the world has forgotten you? Do you think God has forgotten you? Do you think I have forgotten you? These terrible, long days of war have been dragging on now for 462 days!  Perhaps you think that no one in America cares about Ukraine anymore. Well, that is simply not true.
 
Every day, for 462 days in a row now, I have been praying for you. Praying for your safety and protection.  Praying that you will not be scared and nervous when the air raid sirens go off.  Praying that you will be able to sleep, even when you have to spend the night in the bomb shelter. Praying that the older boys will not have to go to the army. Praying for a Victory for Ukraine.  And finally, praying for peace again in your beautiful country.  The world has not forgotten about you.  God has not forgotten you. I have not forgotten about you.
Ingenuity and Distress
I am so impressed with all of you!  Teachers, caregivers, and staff members, for your resourcefulness in learning how to teach and care for children in the middle of a war.  Parents, for doing what you can to keep your children safe and healthy in such difficult circumstances.  And most of all, I am impressed by you students, who have demonstrated a great deal of resilience in adapting to new surroundings, while being moved here, there, and everywhere. I am so proud of each and every one of you!
 
Today, as the youngest child climbs aboard the shoulders of the oldest, I hope that the crisp, clear sound of the school bell is what you hear. Especially today, I hope that there will be no other sounds to disturb your special day – no sharp air raid sirens, no sounds of crying tears of sorrow, no sounds of missile strikes upon your peaceful land. Today, I hope that you will see happiness on the graduates' faces, as they complete Class 11 and make their way into the big, wide world God has created. I hope you will see the joy on your teacher's faces as you give them the lovely flowers they deserve.  Today is a day to celebrate and remember forever!
A Time for Everything
You have learned a lot of new things this year. You have learned that Ukraine is a country of brave warriors and survivors. Yes, I am talking about soldiers – but I am also talking about moms, dads, grandmas, aunties, friends, and neighbors who have created some ingenious ways to help each other and survive in this war. You have learned about unity, and you have seen your own country become stronger and tighter than ever before. I hope you have also seen all the work that Ukrainian volunteers have done in cities and villages all over Ukraine to help displaced people and soldiers. I hope you have seen some miracles too.
 
The bible talks about how there is a season in life for everything. Ecclesiastes 3:1-8 says 'For everything there is a season, and a time for every matter under heaven: a time to be born, and a time to die; a time to plant, and a time to pluck up what is planted; a time to kill, and a time to heal; a time to break down, and a time to build up; a time to weep, and a time to laugh; a time to mourn, and a time to dance; a time to throw away stones, and a time to gather stones together; a time to embrace, and a time to refrain from embracing; a time to seek, and a time to lose; a time to keep, and a time to throw away; a time to tear, and a time to sew; a time to keep silence, and a time to speak; a time to love, and a time to hate; a time for war, and a time for peace'.
An Uncertain Future
 Dear friends, the world has not forgotten you.  We stand with you. 
God has not forgotten you.  He is with you. I have not forgotten you. I love you and miss you.  Soon, there will be peace and then I will be with you again.
 
May God bless you – each and every one of you! Now, ring that Last Bell so loud that I can hear it all the way in America!
 
Cyndee"
 
 
All of our 11th Grade Graduates face an uncertain future, especially in these stressful times of war. The constant shelling, bombing, invasions and now flooding, does not leave these young people with much hope for their future. But with faith in God, and help from people like you, these kids can try to make lemonade out of lemons. Now that they have aged-out of the orphanage, they need places to live, vocational schools to attend and Christian communities to welcome them. Please consider becoming a monthly sponsor to our Orphan Graduate Program in any amount, or sponsor one of these young people for $150 a month. You can change a life. Pray for them, and donate today.  Enjoy your summer!