"Humanitarian Aid" has a Face & a Name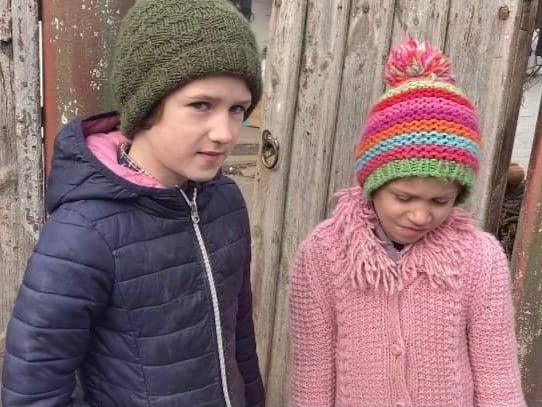 We usually think of Humanitarian Aid as sort of anonymous. Who does it really come from, and who does it go to? We usually never know. However, when you give financially to Hope Now, or order something off our Amazon Wish List, YOU are providing Humanitarian Aid and we can tell you exactly who is receiving it. That's because our own volunteers sort, pack, ship, and hand deliver it to people who need it, in Ukraine. You are being the hands and feet of Jesus to those in need in a war-ravaged land. Vitalina and Zhenya are some of the orphans who received food parcels this past week, along with others from Shpola Orphanage.
Physical and Spiritual Nourishment
In addition to supporting kids from the orphanage, our team members also go into areas that have been heavily bombed by the invaders where food is scarce. We work with our partner ministries who cook and bring meals and hand out food packets daily in areas where folks are literally starving – both physically and spiritually. Many pastors report that church attendance has doubled, and people on the street are very happy to hear the Good News.
Grateful for Medicine
We had such fantastic feedback from those who received our 8 MAP medical boxes last week! "Wow – when you told us you were sending us medicine, we never thought it would be prescription medicine! We took some to our local hospital, and they could not believe where we got it from! Another team member took her box to the soldier's field hospital, and they were so grateful for anti-biotics and other medicines. Several of the First Aid kits were distributed to soldiers on the front lines, and tears came to their eyes when they saw what was inside – including the precious handwritten notes telling them that God loves them, and they are heroes. Thank you, Hope Now for this life-saving gift."
We Need to Send More
Now that we are back from Romania and have spoken directly to all of the people who received our Amazon Wish List items, as well as our medical boxes, we have a better idea of what is most difficult to come by in Ukraine and therefore what is needed most. We have added additional items to our Wish List, so if you would like to see what we still need just click this link https://www.amazon.com/hz/wishlist/ls/3KE40TXN8B95W?ref_=wl_share. We are currently packing additional medical kits and supplies for those still in Ukraine, mainly the elderly, remote families, and soldiers. We will be shipping these items to our contacts in Romania who will help us clear customs and then we will place these items directly into our own vans, and our own drivers will bring them deep inside Ukraine to the people who need them the most. Thank you for your continued prayers and support.