I Went to Ukraine Today!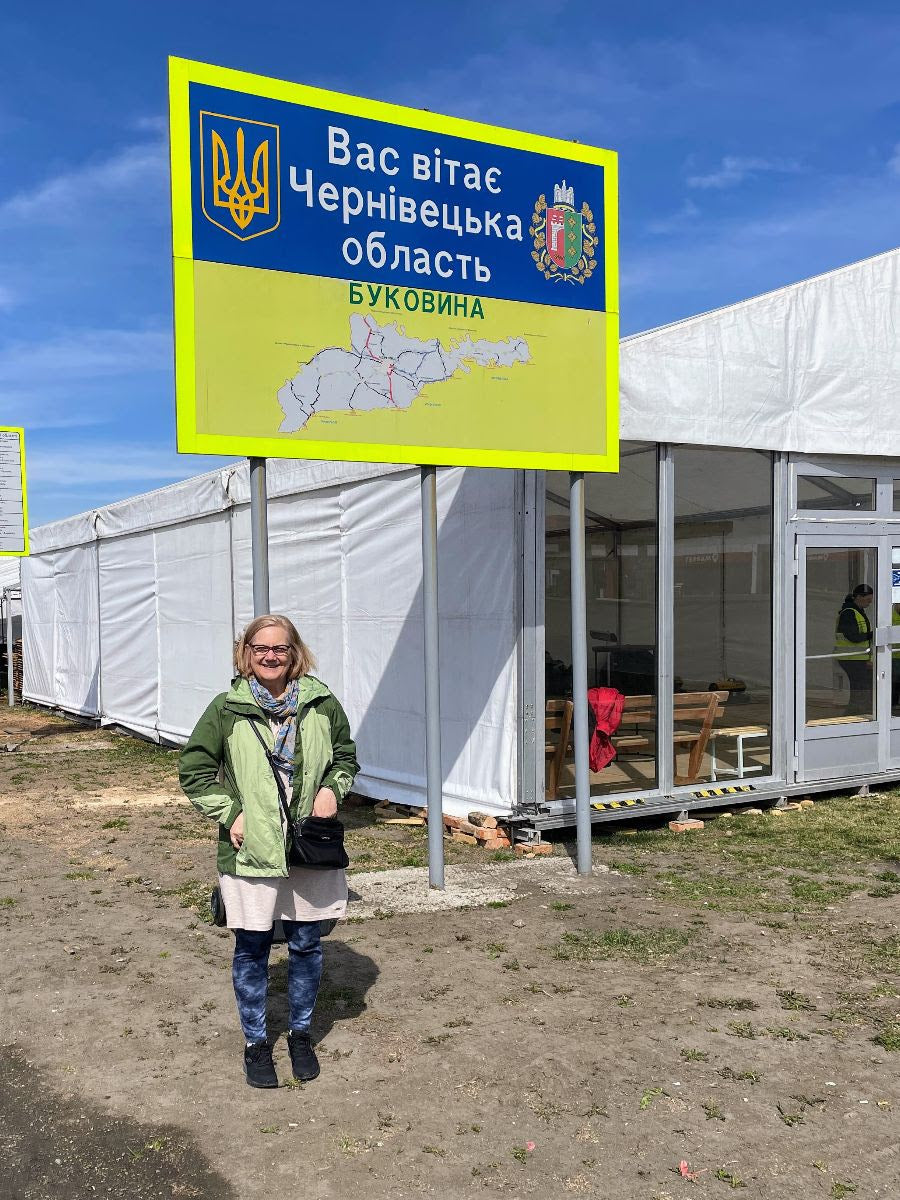 Well, I was only there for about an hour…just enough time to walk from Romania over to Ukraine.  It was a beautiful, but crisp day – and it was great to be back on Ukrainian soil, if only for a little while.
Inna needed a Stamp
Since Inna, our Ukrainian Coordinator, was actually in Sweden the day the war began on February 24, she can not claim "refugee status" since she was not in the country during the war. So today, she had to go back into Ukraine (during the war) and then come back out immediately after getting her stamp. I decided to go with her, to catch a glimpse for myself, of what our 300 kids and guardians had to experience when we evacuated them over the past month. Of course, I did not have to endure the painful emotions that Ukrainians went through as they said goodbye to their homeland, friends, relatives, and pets as they left their country behind. Today, I was able to get a better sense of what those people have gone through just walking a seemingly long distance across the border. Many cars and trucks were waiting in line – as were many pedestrians. The sun shone bright, but there were crisp slices of wind catching our faces as we looked around. The sky was a lovely blue, but the large number of huge black crows were eerily circling and swooping, and their loud "caw-caw" could clearly be heard in the otherwise silence of stopped vehicles waiting their turn in line. It was a kind of surreal place.
Bringing Supplies Into Ukraine is no Picnic…
When Inna arrived from Sweden, she brought 4 large suitcases of supplies for Ukraine – all donated by generous friends she had made over the last month as she and 9 other Ukrainians sheltered there. We added this to the 8 huge duffels we brought from USA, mainly of medical supplies. The day before, we had also found a huge "Cash & Carry" store (which we are now club members of – at no charge!) and had bought cases of instant coffee, canned tuna, rice, sugar, sunflower oil, cookies, juice and of course, chocolate croissants. We divided this up, labelled it all, and packed it all up in Sergi's van and he and his son Zahar as navigator, headed back into Ukraine to bring it our volunteers who would distribute it in their various geographical areas. They decided to go through Moldova, and then through Ukraine as this would shave about 3 hours off their journey. Even though we armed Sergi with all kinds of letters, saying that he was carrying humanitarian aid on behalf of Hope Now, he was stopped and delayed at both border crossings!
He Made a Way
Thank the Lord, that He made a way for Sergi's van to get through the red-tape and he was finally back on the road inside Ukraine – probably driving rather quickly to reach at least some of our volunteers before it got too late. Night-time is the scariest time, as that is when the heaviest shelling and bombing occurs by the invaders. Half of his deliveries were already made tonight, and the rest, Lord willing, he will make tomorrow. Already, our volunteers are oohing and awwwing over boxes of anti-biotics, tourniquets, Israeli bandages, ibuprophen, First Aid Kits, and I even through in several jars of peanut butter, as an encouraging special treat. Thank you to everyone who donated these lifesaving supplies! We have updated our Amazon Wish List and are planning to ship the next load of supplies out before Easter. So, if you didn't have the opportunity to participate before, go ahead and click the link below to see what's on our wish list. God bless! Slava Ukraini!