In Our Family, We Don't Travel Light!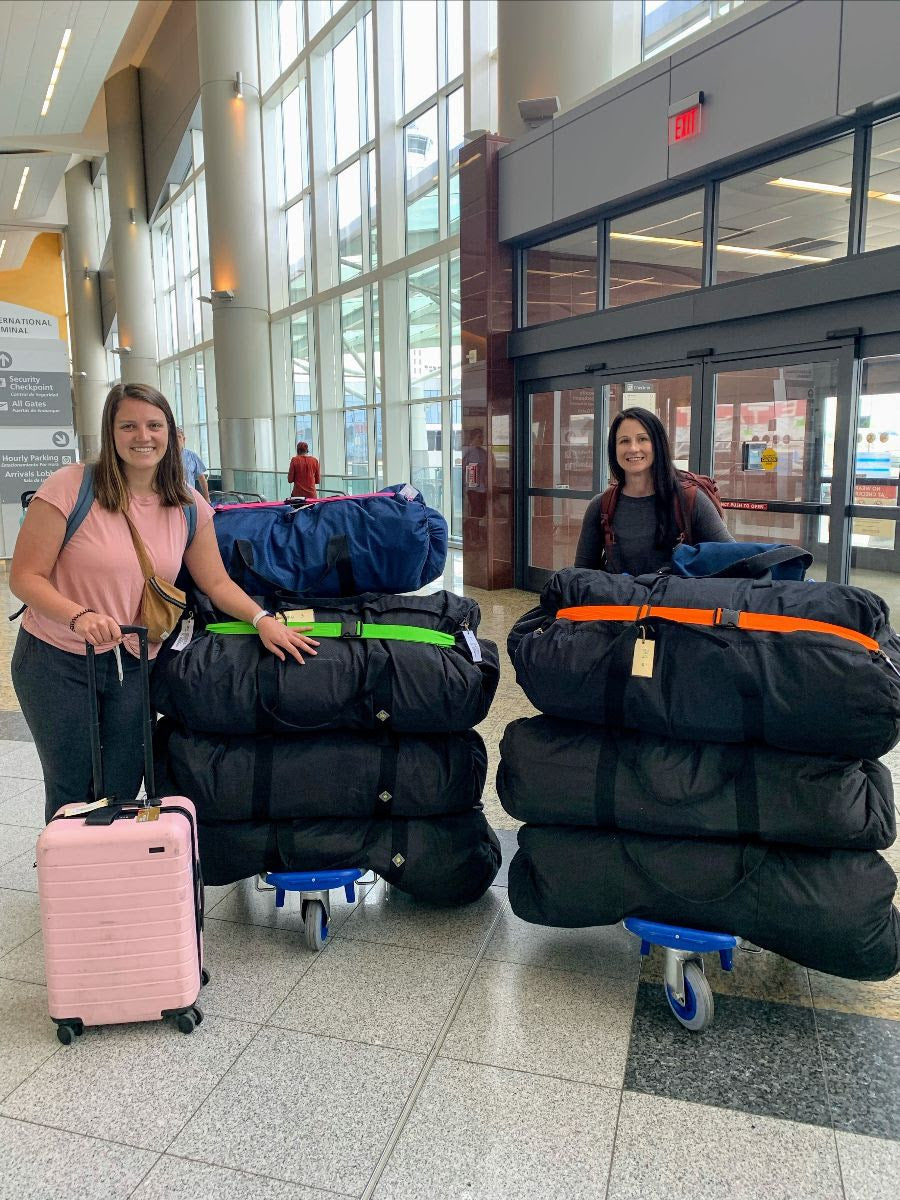 When I was a kid, occasionally my mom asked me to run down to the store, to pick up a gallon of milk. Of course, I would oblige as this was something fun to do – a little adventure. Now that I have children of my own, I also ask them to run errands from time to time. So, Zoë wasn't surprised when I asked her to go to Romania for me…and could she please bring a sizeable amount of cash and 500 lbs. of essential supplies for Ukrainians? Since Zoë has been going to Ukraine since she was 12, and she just came back from teaching in Ukraine and sheltering in Europe, her reply was "Sure, Mom. When do I leave?"
Send Me!
While Zoë was rearranging her plans and changing her flight to come back from Los Angeles a day early, I also made a Facebook post to see who else out there was willing to drop everything and fly to Romania with only a week's notice. I was not surprised when MaryJane contacted me, saying she'd love to go. A few years back, MJ and her daughter, Sophia had already served with Hope Now at our summer camp (Kompas Park), so I knew what kind of traveler she is. In fact, she is a travel blogger, and therefore a very experienced traveler. Between all the countries Zoë and MJ have been to, I had great confidence that whatever travel issues these ladies encountered, they would handle it with ease.
A Bumpy Road is Smoothed Out
And it's a good thing that Zoë and MJ are both Believers and experienced travelers, because it seems that they encountered difficulties at pretty much every step of their journey to Romania. However, it also seems that all of your prayers for these ladies and these bags were at work, because when each obstacle appeared, a surprising resolution also appeared to rectify the difficulty. From check-in snags, Covid questions, visa concerns, luggage problems, late takeoffs, circling patterns, missed flights (2 of them!), security issues and more…God still got the ladies AND all of their luggage to Romania. It just took several hours longer than originally planned.
Precious Cargo...What is in these Bags?
So, what is so important in these bags, that they warrant actual humans to bring them to their destination? I am convinced that the goodies in these bags, donated perhaps by you, are going to save people's lives in Ukraine. We don't want them lost or stolen. They are packed full of everyday over the counter medicines, but they also include harder to get hold of items like blood clotting gauze, chest seals, Israeli bandages, Splints, wound care kits, cold medicines, and probably most importantly 130 doses of Azithromycin and amoxicillin antibiotics. After the bags make their way into Ukraine, these life-saving medicines will be distributed by our local volunteers to army field hospitals & soldiers and will also be passed onto pastors & churches to be dispensed to civilians, doctors and local hospitals – all of whom will be ecstatic to receive. In addition, our duffle bags contain 60 super-packed Tactical First Aid Kits, which will also be sent to soldiers as well as to villages where there are no hospitals or doctors nearby.
Pawn Shop Shopping Challenge
Other extremely important items that we packed into our duffle bags are high quality pairs of binoculars and bullet proof vests. For this trip, we managed to obtain 3 used vests and 2 new ones. Of the used vests, one was from my high school friend (thanks, Leann!) and the others were bought at an Atlanta pawn shop! I had been making calls to all the local police stations and army surplus stores to inquire about vests and it never occurred to me to call the local pawn shops – but that's where you can find them! So, I challenge each of you out there, to call around to see who has a bulletproof vest they can either donate or buy for a soldier in Ukraine. And don't forget to check your local pawn shop!
Save-A-Life -- It's no Joke
Although we had fun wearing bulletproof vests around the house before packing them, our smiles are nothing compared to the smiles that a Ukrainian soldier will have once he/she puts it on! Some are heavier than others, but all have been prayed over by many people. We pray that God will protect the young men and women defending Ukraine, and that there will be peace throughout the land. We pray that the equipment and medical supplies will help heal those that need it, and that no more blood would be shed. Easter Sunday has just passed in Ukraine, and the feeling of Hope endures as spring is in the air. After the ladies finally landed, Zoë reminisced, "When I stepped into Romania, part of it felt so foreign, while another part felt like I was in Ukraine, just different. I was hit with a wave of deep sadness that it wasn't Ukraine I was traveling to - the country where I am supposed to be living right now. It looked so similar to arriving for summer camps in May, and my heart breaks not knowing when we will have camp in Ukraine again."
Mission Work is a Family Affair
 Thankfully, the next part of the journey is down to the Lansky family – who will take the duffle bags and finances across the border into Ukraine and then deliver them to the folks who will take the supplies further on. Until then, Zoë and MJ will get to spend the next 12 hours or so with this wonderful family – who are really more like family to us than just friends or volunteers. Many of you know Masha, and these are her people! Please keep your prayers coming, as Zoë and MJ drive across Romania tomorrow on their way to the Western side where our kids and moms are sheltering at the Village of Hope orphanage. Once there, they will check up on the 50 or so Ukrainians there, visit some families that are at a different location, do some activities with everyone, and generally be an encouragement to the volunteers and staff. If you would like to volunteer for upcoming trips, please email us at info@hopenowusa.org