Is this trip going to be a bust?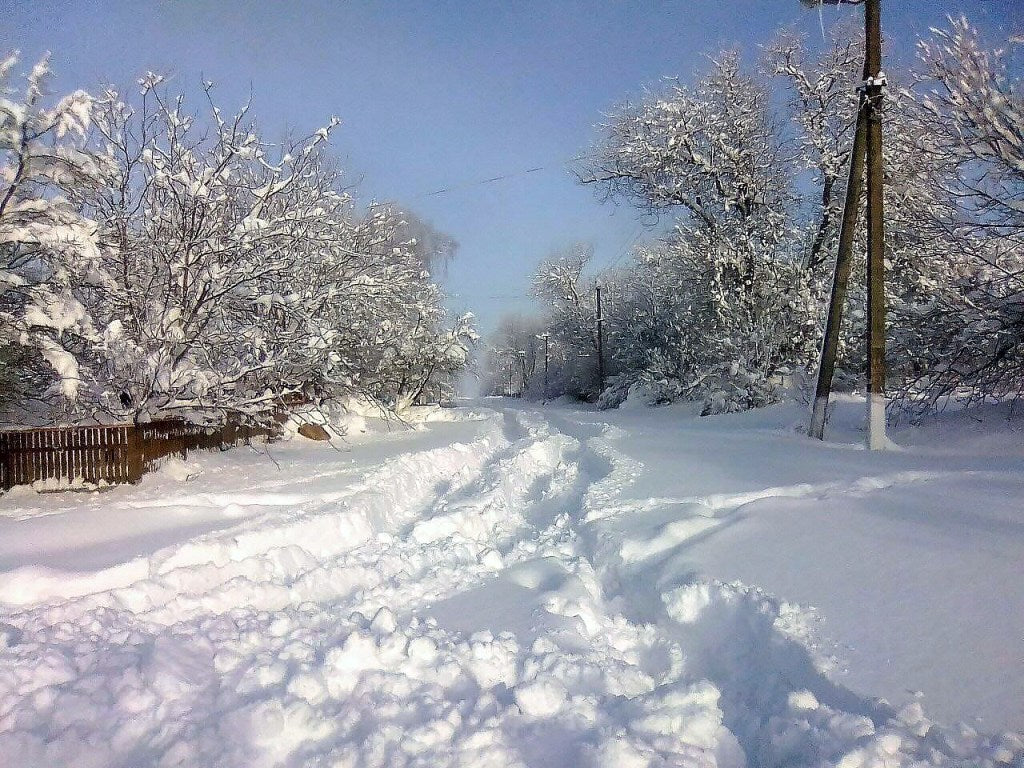 Winter weather woes
I admit, visiting Ukraine in winter can be a bit tricky.  Certainly, it is not for anyone unaccustomed to dealing with ice and snow and as a native Minnesotan, I like to think I can handle harsh winter weather.  Plus, last January's trip was full of snowy fun and navigating the roads was not a problem.  So far, it's been a different story in 2018.  You see, most areas of Ukraine still lack sufficient snow removal equipment and manpower.  Walking outdoors on uneven, slippery layers of bumpy ice is difficult enough – but driving on it is even more perilous.  Add to this, a dense, sticky snowfall of several inches and although beautiful, a winter wonderland quickly turns into a dangerous hazard for road traffic and pedestrians alike.  
Tree branches, heavily laden with accumulation, quickly snapped wreaking their own havoc. Suddenly, all of Cherkassy was without water.  The water pumping station suffered major damage from falling trees and there simply was no water coming out of the taps for all 300,000 residents. Resourceful Ukrainians grabbed plastic grocery bags and filled them with snow to melt on the gas stove.  Now there was water to flush the toilets! Personally, I kept my 2 big soup pots filled and I was blessed to have enough Coke and bottled water to drink for the 4 days I was snowed-in.  All the stores quickly sold out of everything, my van looked like an igloo and the unplowed roads were not safe for travel.  Sadly, our plans to visit the orphanage 50 miles away, were quashed.
One of the goals of this trip, was to sit with the 32 newly sponsored kids at Shpola Orphanage and tell them about their new sponsor! Many sponsors sent letters and presents, and my team and I were ready to deliver gifts and the Good News to these children.  I worried about how the snow and ice was affecting the orphanage, and if the kids were warm enough knowing that many of them did not yet have the coats and boots I had brought with me.  I was relieved when a Shpola teacher posted some lovely photos of the kids having fun outside in the snow!  Even though Shpola was also completed socked-in and covered in snow, the staff was able to walk to the orphanage to get to work and care for the kids.  Everything looked fine!  We just had to wait out the weather, wait for the roads to be cleared and then our visit would take place.  
So, we waited.  And it kept on snowing.  And no roads to Shpola were cleared. There were reports of rescues taking place of Shpola city busses stuck in the snow.  Then the rescue trucks also became stuck in the snow.  Shpola residents took to social media and bitterly complained about corruption in their local government and demanded to know why the snow plows were not out clearing the streets.  And then, a light rain started to fall.  And then we got a call from the orphanage Director – with photos.  Unfortunately, a section of the children's dormitory collapsed under the heavy snow which had been piling up on the roof.  He assured us that no one was hurt, and all of the children have been moved to other dormitory rooms, but he explained that he desperately needed funds to order building supplies from the lumber yard to make the repairs to the roof.
Thanks to our regular monthly sponsors, we have funds in reserve for emergency repairs at the orphanage, so we were able to provide immediate assistance.  The orphanage ordered the materials they needed, the store sent us the invoice and with our guarantee, released the supplies so the orphanage staff could start repairing right away.  Of course, we wanted to go see the children and repairs for ourselves, but a new problem arrived which frequently comes this time of year.  Shpola has the flu.
So even though the snow and ice has diminished, and the roads are now navigable, we have been asked to wait another week to come.  Many children are sick and have been moved to the quarantine room, and the children with the most severe cases have been sent to the hospital.  So, please keep these precious ones in your prayers.  Pray for good health to cover all the staff and children at Shpola Orphanage and hopefully we will get to see them playing happily in the snow again soon.