It looks much bigger on TV!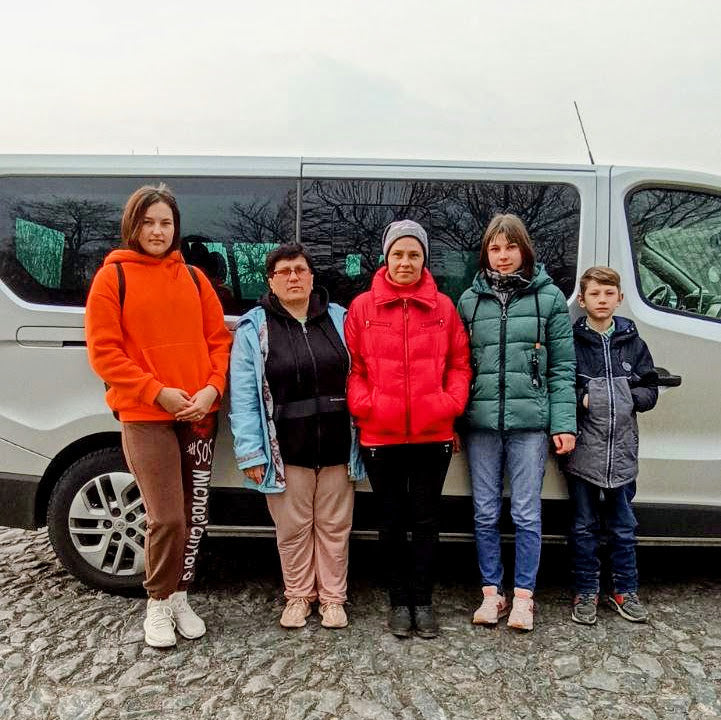 Today, we got to see for ourselves, up close and personal what the Siret border crossing is really like. You know what? It's much smaller in person! It's mainly just a narrow street, lined with various charity stands – free things for incoming Ukrainian refugees. There are some gravel parking lots off to the side, and it was not very busy at 8:00 pm – not backed up at all. In general, it was very organized. Weary travelers seemed generally happy to be there, and glad they made it across the border. The Romanian people were welcoming and helpful! We were glad to receive our 10 Ukrainians – all orphanage families. It was easy to find them once they came across.
From Dawn to Dusk
Having left Shpola at 6:00 am, our drivers and travelers were bright eyed, and bushy tailed early this morning. However, after having spent more than 12 hours together, our little convoy of 2 vans was ready to go to the refugee shelter and find a mattress to collapse upon. After greetings, photos, and paperwork everyone was ready to turn in for a good night's sleep. The group will spend just one night here, before heading out again tomorrow – Oradea is another 8-hour drive in a mini-van. But the group is excited to go the Village of Hope. They breathed an audible sigh of relief when we answered their question "And, Cyndee, how long can we stay at this Village of Hope?" The answer, "As long as the war lasts." Slava Ukraini!
Thanks to our Awesome Drivers & Navigators!
We can never say thank you enough to our drivers and navigators who give up their own personal safety to evacuate our orphans and their guardians. Your sacrifice has helped us get 283 people (and one little dog!) across the border to safety. May God continue to watch over you and your families.