Kat's in Donetsk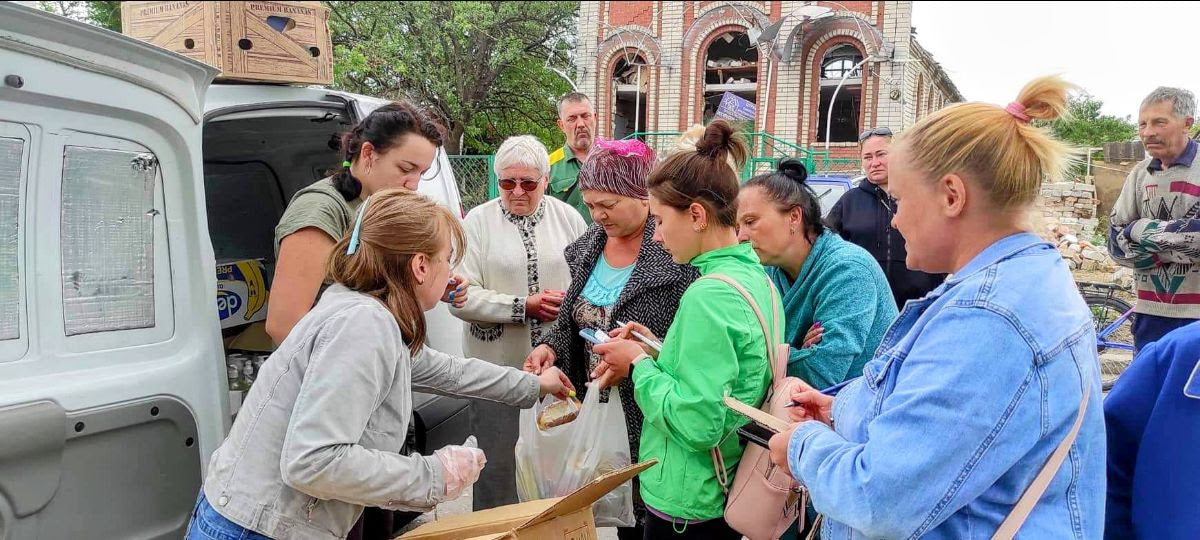 One of our ministry partners is a husband-and-wife team in Cherkasy. Their names are Dima and Katya, and their mission is to feed and help the desperate people of Ukraine.

Hope Now has been supporting Dima & Kat and their team financially since Ukraine was invaded in February. Due to the generosity of many donors like you, we have been able to provide funds for Kat to buy a used transit van. This little white wonder has been driven all over Ukraine picking up humanitarian aid, buying groceries and household supplies, and bringing food to starving people. We help by supplying money for diesel, sending lifesaving medicines from America, and for providing funds to buy food to make food bags to give to people still stuck in hot spots where there is nothing left. Recently, Kat used the funds we sent to make a trip to Eastern Ukraine, in the heavily hit area of Donetsk.  Here is Kat's report:
A life-line for many...
"Thank you, Cyndee for your financial support. Yesterday we went to Druzhkivka, Donetsk region, 40 kilometers from the front line. People there suffer from intense shelling every day. There is no water, the shops are closed, and the electricity is intermittent. We constantly heard shelling nearby, which was terrifying. However, we met many Believers.
In the middle of the night, we left Cherkasy and after driving only 100 km, we got a flat tire due to bad (ruined) roads. Our team stood in the field at 3 o'clock in the morning and changed the tire. Unfortunately, the spare tire was also in very bad shape, with no tread left. We prayed we would make it to the next big town, and God supplied our needs. Dima was able to find and buy new tires in the Dnipropetrovsk region."
Especially tough on the Elderly...
"After arriving in Druzhkivka, we went to a home for the elderly – like a nursing home (but not like the ones in your country.) The elderly who have no relatives live there, and because of the high stress level due to shelling, they die every day. Their feeble hearts can't stand it. But the people are wonderful! We prayed together and when we told them that we are Christians, they gladly accepted all we had to say to them about God and his saving grace."
Death and Destruction Abounds...
"Then we went to the area that was heavily damaged by the shelling. The Baptist church and 40 houses were severely damaged. Here is a photo of this woman (who used to attend that church), and she tearfully told us that a rocket fell next to her house and created a 10-meter crater. Unfortunately, this woman's mother died under the rubble."
God Saved Us...
"I want to give another testimony to say that the tire was punctured for a reason. Because of this delay, we were late for giving out the food parcels in Druzhkivka and just at that time there was heavy shelling. If we would have arrived on time, we would have also been shelled. So you see, God saved us. Thanks to your finances, we buy everything at home and take it to people far away. There really is a great need for food. The stores are not open. There is only bread. There is not even drinking water, there is no water at all, all water must be brought to them. The electricity, and therefore light is turned on periodically. I can't imagine how these people will survive the winter there. It is such a pity that a lot of money is spent on fuel, but there really is a great need, so we must do it. These people have lost everything. We must tell them about Jesus and do what we can to ease their suffering."
Just Regular People...
Katya and her husband Dima are just one couple – regular Christian people – that Hope Now helps by providing much needed funds to help feed displaced, lost and hungry Ukrainian families desperately trying not to become casualties of war. When you donate to Hope Now, you are funding this important work.
'For I was hungry and you gave me food, I was thirsty and you gave me drink, I was a stranger and you welcomed me, I was naked and you clothed me, I was sick and you visited me, I was in prison and you came to me.' Then the righteous will answer him, saying, 'Lord, when did we see you hungry and feed you, or thirsty and give you drink? And when did we see you a stranger and welcome you, or naked and clothe you? And when did we see you sick or in prison and visit you?' And the King will answer them, 'Truly, I say to you, as you did it to one of the least of these my brothers or sisters, you did it to me.' Mark 25:35-40