Kherson After Liberation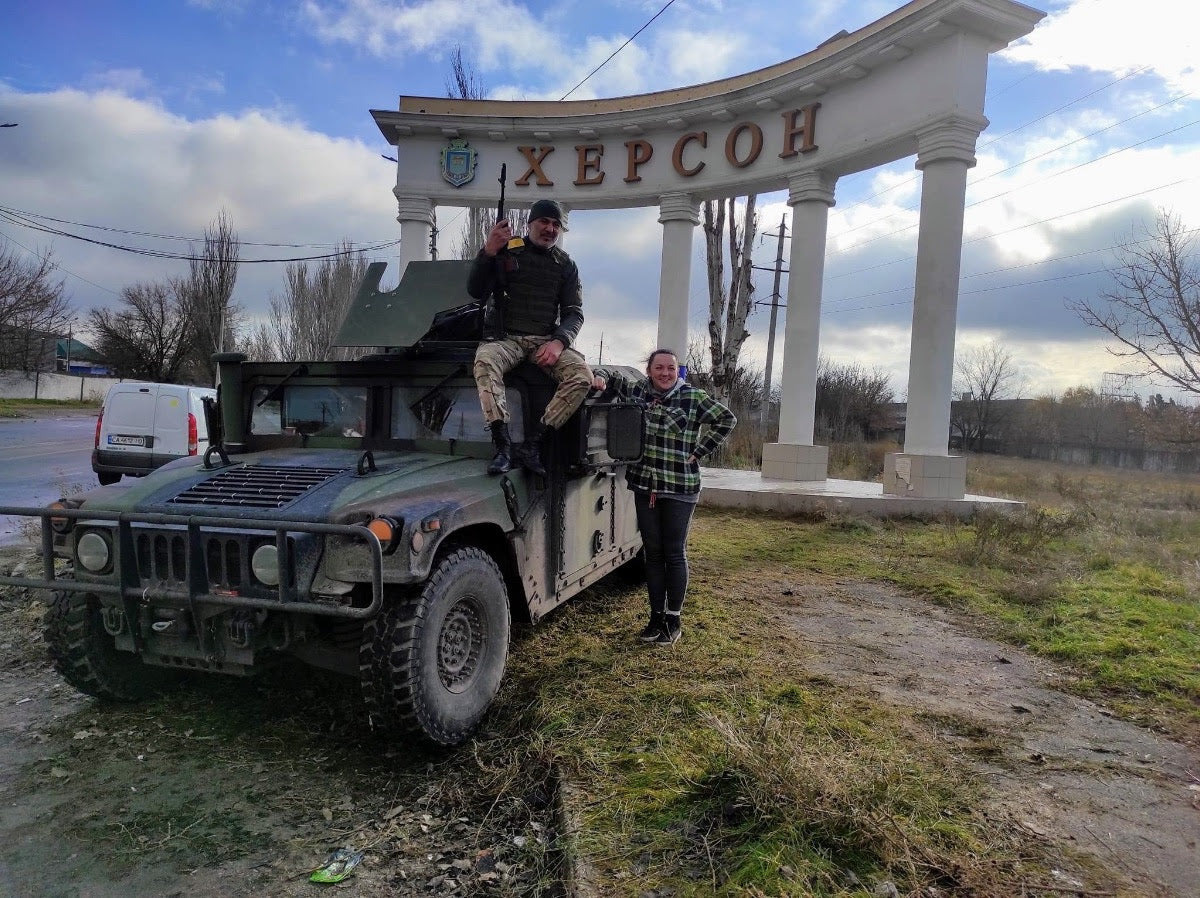 We've said it before. A picture is worth a thousand words. And according to Google, an average reader will read 1,000 words in 3.3 minutes when reading at a speed of 300 words per minute. But during Thanksgiving week, who has even 3.3 minutes to spare?
Katya & Dima's Quick Photo Tour
To help you out, here is a short message from Katya & Dima – our brave couple who literally plan their birthday celebrations around making humanitarian aid trips to recently liberated areas of Ukraine. It's only 277 words, so it should take you less than a minute to read.
Crying for Bread
"Kherson has always been and will always be our Ukrainian city. Regardless of what the sick invaders decided for themselves. They envy our Oleshkiv sand, our delicious Kherson watermelons, our nature, even our toilets and electric kettles in our apartments. On the other hand, they settle for no roads in their cities, a pension of 8,500 rubles ($139), bread once a week and water brought in by tractor. So, we finally returned to Kherson again, a little out of season, and for another mission. What we saw will forever remain in our heads. People cried when they took the homemade bread in their hands, so thank you to our constant partners Craft Bread Workshop, because no stores are open. And in the villages of the Kherson region, people experienced a famine like you only ever heard about from your grandparents. It is difficult to hear, and we see the children and know that they are malnourished. To see women who experienced sexual threats and were afraid for their lives. Therefore, when our lights are temporarily turned off, we remember that in comparison, we live in fabulous conditions, having everything, and most importantly, bread on the table and water in the tap. So, we got organized, loaded the van and at maximum speed drove to Kherson. We helped people on the outskirts, where there is no help, and where everything was destroyed by the war. Well, as always, it seems we arrived just in time... And by the way, they found a watermelon for us 🍉. Thanks to everyone who supported us. To those who do not yet support, please join us. We are grateful for every penny." 
More Trips in the Works
Katya & Dima are already planning their next trip. Since we helped them buy their white transport van (the little engine that could?) months ago, they have made 25+ trips to hot spots in Ukraine to bring Christian relief to the people left behind. When you give to Hope Now, you are equipping Katya & Dima, plus many of our other team members who are being the hands and feet of Jesus in Ukraine. That is something we are very thankful for this Thanksgiving.