My father is no more.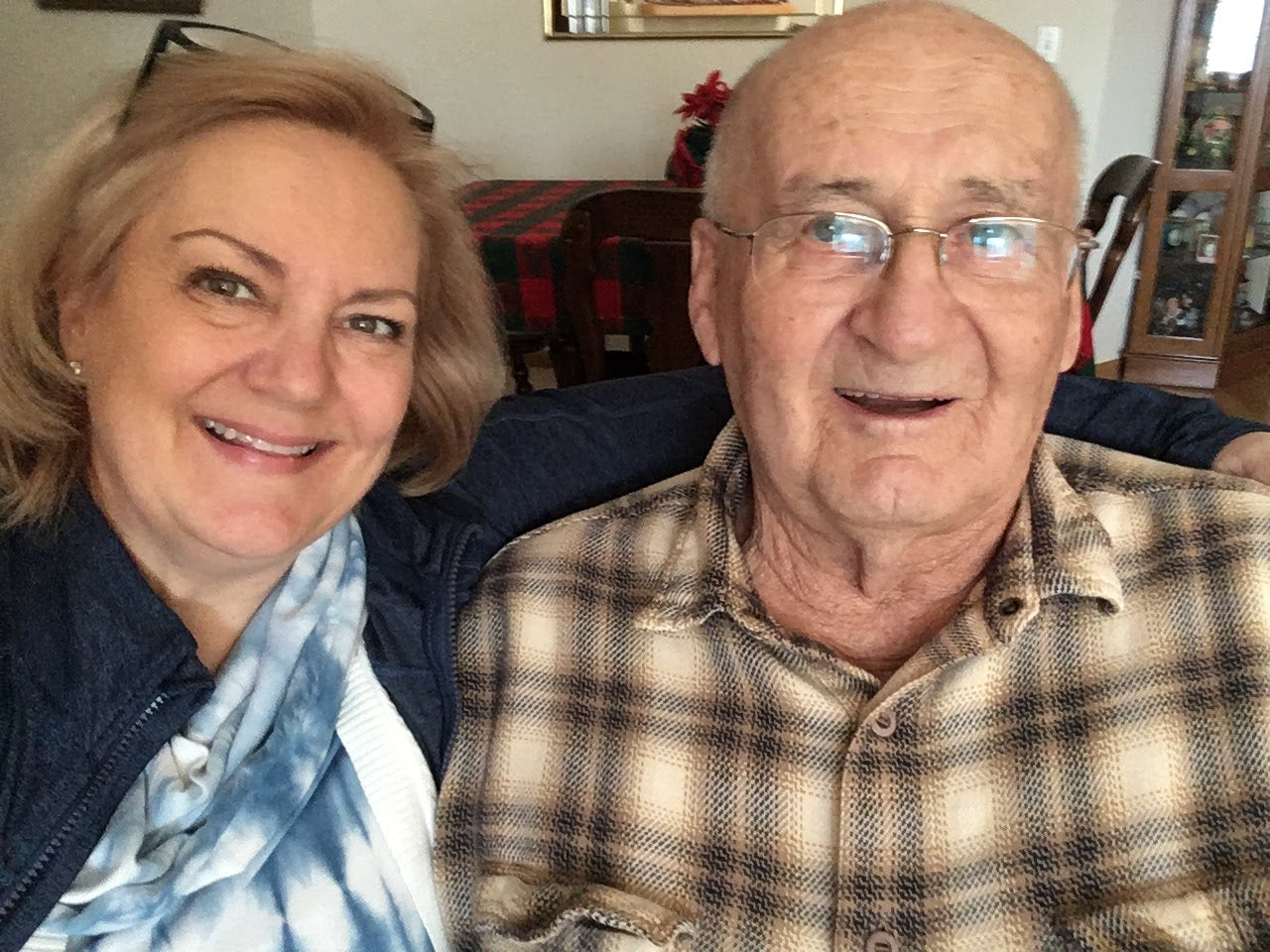 By:  Cyndee Knight
My father is no more. 
How many times have I heard an orphan say that to me?  "My father is no more." It's a terrible expression, but perhaps it's better than saying, "Papa is dead." Or, "My dad deserted us." Or even worse, "Daddy abandoned us, forgot about us and has a new family now."  For the hundreds of children we minister to in Ukraine, almost ALL of them have suffered the loss of their earthly father one way or another, and it is absolutely crushing.
I know a tiny fraction of what these children are feeling, because recently, I have been crushed myself. Last month, my own wonderful father was called home to heaven at the age of 85. Dad passed peacefully in his sleep from this world into eternity in his own home, with Mom at his side. He fought a long and hard battle with a horrible lung disease and in his typical fashion, he never complained. Dad was a devoted husband of 65 years, a dedicated father, grandfather, great-grandfather, brother, son, uncle and friend to all who were blessed to know him. Dad was hard working and provided for his family by holding many jobs including being a high-end waiter, long-haul truck driver, roller-rink attendant, US Army veteran, fork-lift driver, greenskeeper and machinist for 27 years at a dangerous oil refinery. His hobbies included skiing, golf, puzzles, square dancing, travel, crafts, fixing anything, giving blood and cheering all of us on. He took our family to church, raised 4 daughters to know the Lord, defended us and kept our family safe. Most of all, he was just a great dad with kind eyes and a warm heart. In my mind, Dad never competed with my Heavenly Father; I was just blessed to have both of them as steady, constant forces in my life.  
My own dear Dad is probably the exact opposite of the kind of father most of our kids in Ukraine have. Throughout their short lives, these poor kids have been lied to, disappointed, mistreated, neglected and abused at the hands of their own fathers. I am always shocked when these precious ones talk lovingly, longingly and hopefully about their own parents, who have treated them so abysmally. But still. They crave that tender parental love. These children have holes in their hearts, and they yearn for them to be filled. 
Every summer, we take these orphans and other at-risk youth to a safe refuge – a sanctuary really, called Kompas Park camp. For the past 13 years, Kompas Park has been the place where literally hundreds of Ukrainian children have finally been exposed to the truth about the great love their Heavenly Father has for them.  They discover that they have a Heavenly Father; and He will not disappoint or hurt them, but instead will only love them and lavish attention on them as if they are His favorite child.  These kids learn in James 1:17: "Every good and perfect gift is from above, coming down from the Father of the heavenly lights, who does not change like shifting shadows." At last, many kids realize that they can have a Father who will never leave them or forsake them.  Godly experiences at Kompas Park have positively transformed the lives of countless children over the years. 
Kompas Park camps have also changed the lives of our international and Ukrainian volunteers.  Many volunteers sign up to serve for a week or two of camp, expecting to raise money, work hard, get to know other camp counselors, have fun, and generally hang out with kids for a week.  More often than not, they also end up playing at being psychologists specializing in traumatized children, discipline specialists, Bible scholars, conflict resolution amateurs, and parents for a week. Most volunteers soon come to the conclusion that the lack of proper parenting, or perhaps even the lack of parents at all in a child's life, often leads children to desperately hanker for love and affection from a father figure. They also thirst for a safe home, and Kompas Park provides all of this and more!
Due to risks of COVID-19, the summer of 2020 will be a Sabbath Summer at Kompas Park. Just because the gates will be closed does not mean there is no work to be done.  There is plenty!  Father's Day is June 21, 2020.  In memory of our earthly fathers, and in honor to our Heavenly Father, we will undertake a 30-day campaign to raise $10,000 for Kompas Park.  If you or a loved one have served orphans or at-risk youth in Ukraine, then you already understand how critical it is to Carry Kompas Park through this Sabbatical. "There you saw how the Lord your God carried you, as a father carries his son, all the way you went until you reached this place." Deuteronomy 1:31
My earthly father is no more. However, my Heavenly Father is alive and well, and sitting on the throne, waiting patiently for all the little children to come to Him. Kompas Park happens to be the perfect place for them to meet face to face. Will you help?
To Carry Kompas Park through this Sabbatical Summer, click here and select "Summer Sabbatical".