No bomb shelter? No school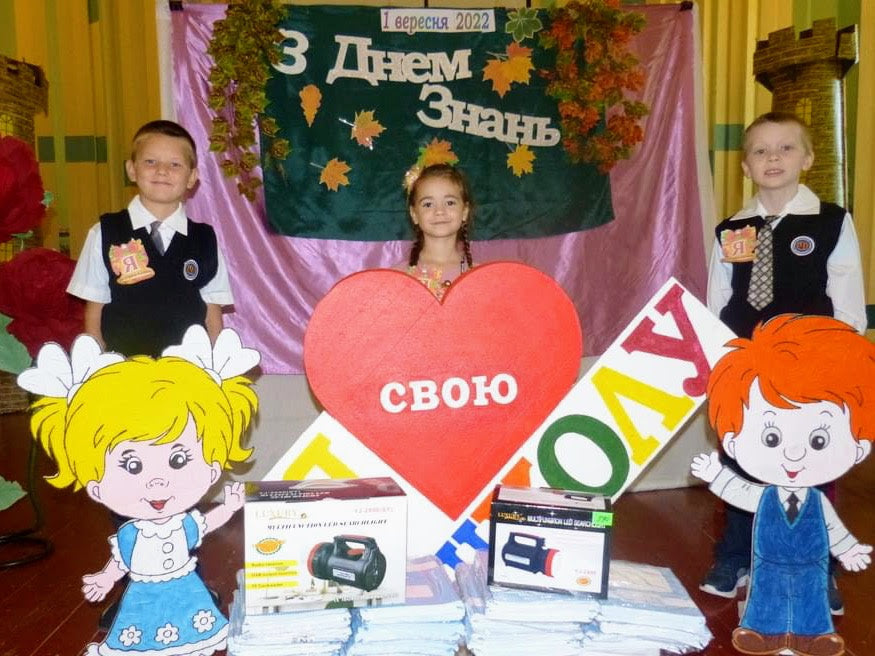 Your sponsored child is back at school!
This fall, it was "back to school" for our orphanage children despite the ongoing horrific war in Ukraine. Surprisingly enough, the orphanage was returned (from the government) on September 1, which means the military who were using the place as their barracks packed up and left. However, in order for the orphanage school to reopen, the Administration asked us for help. There was one condition they had to achieve in order to reopen. They needed a bomb shelter for the children.
Your sponsorship dollars at work
So, your sponsorship dollars last month went towards buying items like battery operated lanterns, portable power banks for communication, along with some other essentials needed in order for the orphanage staff to turn the basement into an approved bomb shelter for the children.
Our dear Olga, Assistant Director of the orphanage wrote to us, "Hello dear Cyndee! We searched and searched online and this is what we got: 10 first aid kits, 10 lanterns, 2 Bactericidal (germicidal) lamps, 20 flashlights,  60 respirators and 5 power banks for charging phones when the electricity goes out. We also bought accumulators and radio receivers. The gas masks were very expensive, so for now we hope to do without them. We are now approved to have 60 children in school at a time. That is the maximum capacity of the bomb shelter. So, we take 60 kids for 2 weeks, and then switch to the next 60 kids. Not ideal, but it is better than leaving the children to fend for themselves with their guardians. We are very grateful!
 
We miss all of you! The children and all the staff send warm greetings and hugs! Thank you for everything!!! We hope to see you soon!!! We really hope that this crazy war will end, and everyone will be able to feel safe. Glory to the heroes!
Not too scary...
I have been in that basement many times, and it is fairly well lit, and "finished" so it is not like a bare walled cellar or anything like that. The showers for the whole dormitory building are in that basement, so the kids are not scared to go down there, and they are used to it. Since the school reopened, many of the children are back in the safety of the orphanage. However, there are still many kids that did not come back to the orphanage — they are doing "distance learning" abroad if they have fled the country or if they have moved to a different part of Ukraine.
Olga told me yesterday, "Now we have very frequent air alarms, so children and workers run to the basement, which is in the dormitory building. It is especially difficult when it happens at night. All the children are well behaved - they understand what they need to do. Unfortunately, last week we had to send the children 'home' for a week due to the heavy rocket attacks across Ukraine. We just received word that hopefully on Monday, we will receive the all-clear to have the children back with us. We pray it will be so."
International Day of Peace
Among the air raid sirens, and bomb shelter drills, everything was going better than expected, thanks be to God! The orphanage even celebrated the holiday, "International Day of Peace" which was established in 1981 and unanimously approved by all United Nations Members. The UN General Assembly declared September 21 as "a day devoted to strengthening the ideals of peace, through observing 24 hours of non-violence and cease-fire."
Teachers & Children want peace now
This year International Peace Day was particularly concerning, as Vladimir Putin, the President of Russia, ordered Russia's first mobilization of reservist forces since WW2, de facto escalating the conflict in Ukraine to a new dangerous level. We believe this is a tragic decision and according to many geopolitical leaders the only card Mr. Putin can play given that he is losing the war against Ukraine. He is also escalating the rhetoric at home justifying this escalation as the only way to prevent a Western invasion of Russia. Ukrainians just want the security of peacefully living independently in their own land. Children want peace and everything to go back to "normal."
This Christmas is not going to be Normal...
Winter is around the corner; it is getting colder and colder each day in Ukraine. Normally, we partner with a local Ukrainian church in Cherkasy to help us provide Christmas gifts for the kids at the orphanage. That will not be possible this year, as many church goers are themselves refugees, with not a penny to spare. About 45 children from the orphanage remain abroad – mainly in Europe – so that leaves 149 children in Ukraine. It will be up to us to provide each child with a Christmas gift, which we hope will remind them that the grace that God freely gives to us, is a gift.
Send a Bag of Blessings this year!
Send a Christmas gift to your sponsored child — or to an orphan without a sponsor… All you have to do, is print off the attached checklist and start filling your Hefty 2.5-gallon zip bag. Check off the items you put inside the bag, so that we know what's already in the bag. We are also asking for winter long johns, to help the kids keep warm. Click the pink link to print off the form for Bag of Blessings for Children.
Click for Bag of Blessings for Boy or Girl
Soldiers Need Christmas Blessings too!
This year, we are also doing Bags of Blessings for Soldiers too, so decide if you want to make up a bag for an adult or child and start shopping. These men really need thermal underwear – it is now the most requested item. Click on the green link and print off the checklist. Then, if you can, fill up a bag, and then mail or ship it to our Atlanta office so that it arrives by November 10, 2022. We will be taking these Bags of Blessings to Ukraine around Thanksgiving time… maybe you'd like to come too?