Penicillin to Poland - Cyndee's news from Ukraine!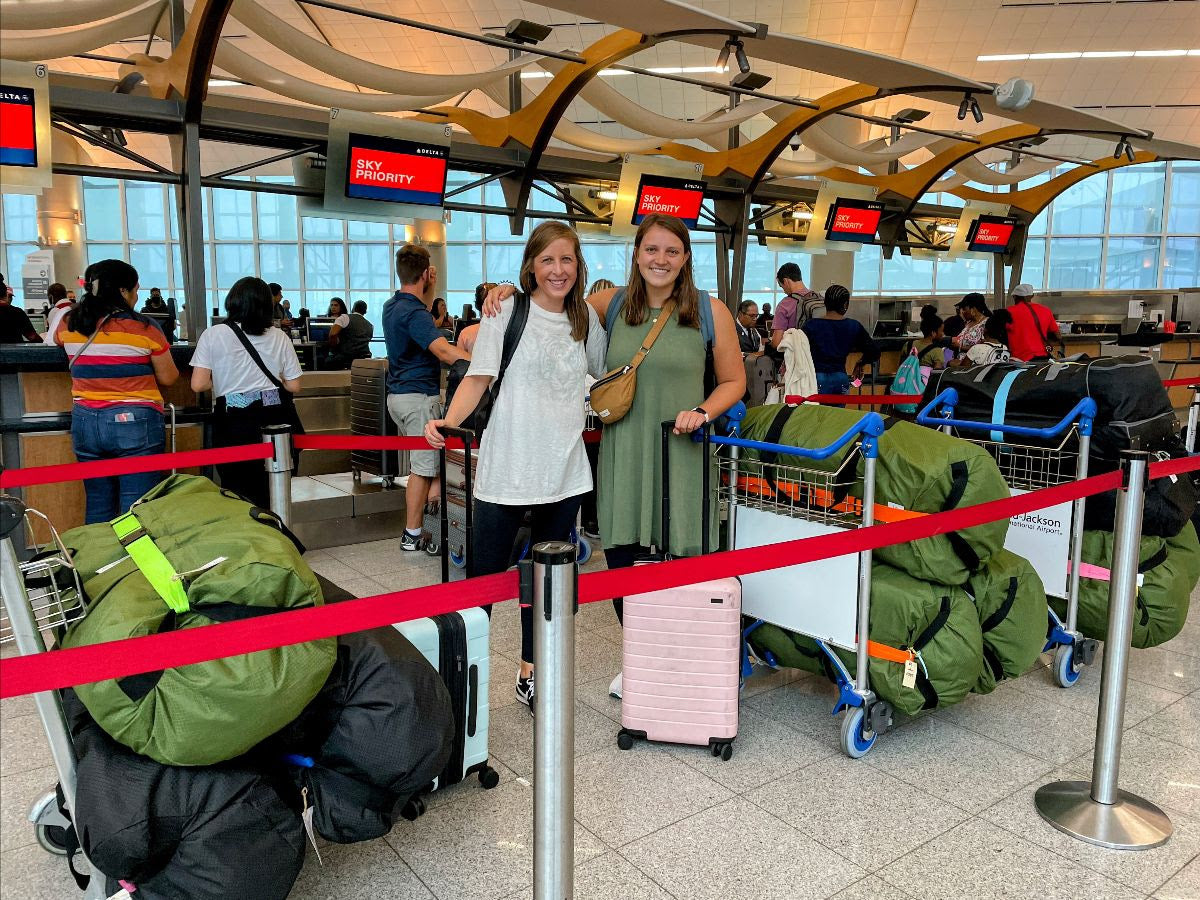 We are grateful to have adventurous volunteers willing to schlep 700 pounds of medical supplies, tennis shoes, and kids socks & underwear across the pond. That's exactly the mission that Hope Now sponsors Meg & Zoe embarked on yesterday as they checked in 10 x 70-pound duffle bags on their journey from Atlanta to Warsaw, Poland.
Delta, our Hometown Hero
God had his hand on this precious cargo from the very beginning. Special thanks to a friend from Delta, all 10 overweight bags were allowed to fly to Warsaw for free. What a huge blessing that was! And miraculously, even after a 3-hour delay due to scary security sweeps and ultimately the arrest of a prospective passenger, Meg, Zoe and all the bags arrived in Amsterdam on time and without incident.
Smooth Sailing
Following a quick connecting flight to Warsaw, the ladies landed on time – and so did all 10 bags! No issues through customs, and our trusty Ukrainian volunteer Ilya was at the airport to meet them and help with all the bags. You might remember Ilya, as he was one of our team leaders at Kompas Park a few years ago. He is now married and living in Warsaw and doing as much as he can for the war effort in his home country of Ukraine. Even though Warsaw was a bit dreary and wet, a warm welcome awaited our volunteers and even the rental car was delivered to the airport! God smoothed the path at every turn!
Meds to Mission Field
So where did all of these medical supplies come from? For this trip, most of them came from 3 sources. We have a wonderful pharmacist friend in Peachtree City, who has donated a huge number of medical supplies including a variety of prescription cremes and anti-biotics, sterile gauze & bandages, first aid kits, burn sprays and lots of other essentials like lice treatments, artificial tears and the like. The Pharmacy Place is a small business owned by Pharmacist Hiren Patel, who "just wanted to help." We are so grateful for his support!
Vacation Bible School
The VBS kids at Northway Church in Macon, Georgia held a special competition to see who could bring in the most OTC medical supplies – boys vs. girls of course! All week long, the kids learned about the war in Ukraine, and what they could do to help. They collected OTC medicines such as cough syrups, Tylenol, bandages, first aid kits, vitamins, allergy tablets, Ibuprofen, sleep aids, Neosporin, cough drops and kept track of the donations! (We think the girls won!) The children also made beautiful cards and wrote notes to soldiers in Ukraine, and these touching letters went inside the first aid kits. "We are with you." "You will win. Stay strong." "You got this. God's got you." What an encouragement they will be!
Amazon Wish List
The third source of medical supplies came from donors like you! Our Amazon Wish List "Ukrainian orphans and refugees" is full of needed things, including the most requested items which are tourniquets, tactical first aid kits and blood clotting gauze. We are constantly updating our list, and are continually packing, so feel free to order anything off this list that you wish to donate to our efforts in Ukraine. We are planning the next medical supply mission now, with these items leaving for Ukraine in July. Here is the link for the Amazon Wish List.
Retreat, Rest and Relaxation
Now that the 10 duffle bags are safely in Poland, it's time to relax. A few of our key team members had to make the harrowing 15-hour journey from Ukraine to Poland, to pick up these medical bags. So, for the next few days, Inna, Luda, Ruslan, Lena and Tanya will be treated to some much-needed rest and relaxation. Meg and Zoe have prepared some uplifting devotions to encourage our weary team – most of whom have not had a break from serving others during these 127 days of war. We hope that the sunshine, cheerful scenery, hiking, biking, good food, and perhaps even a swim or massage, will help our team recharge their batteries…before heading back to Ukraine at the end of the week to deliver the medical supplies to local hospitals, rural areas and of course to the front lines. Thank you for your support and prayers.