Sight-seeing and Searching for Scar Cream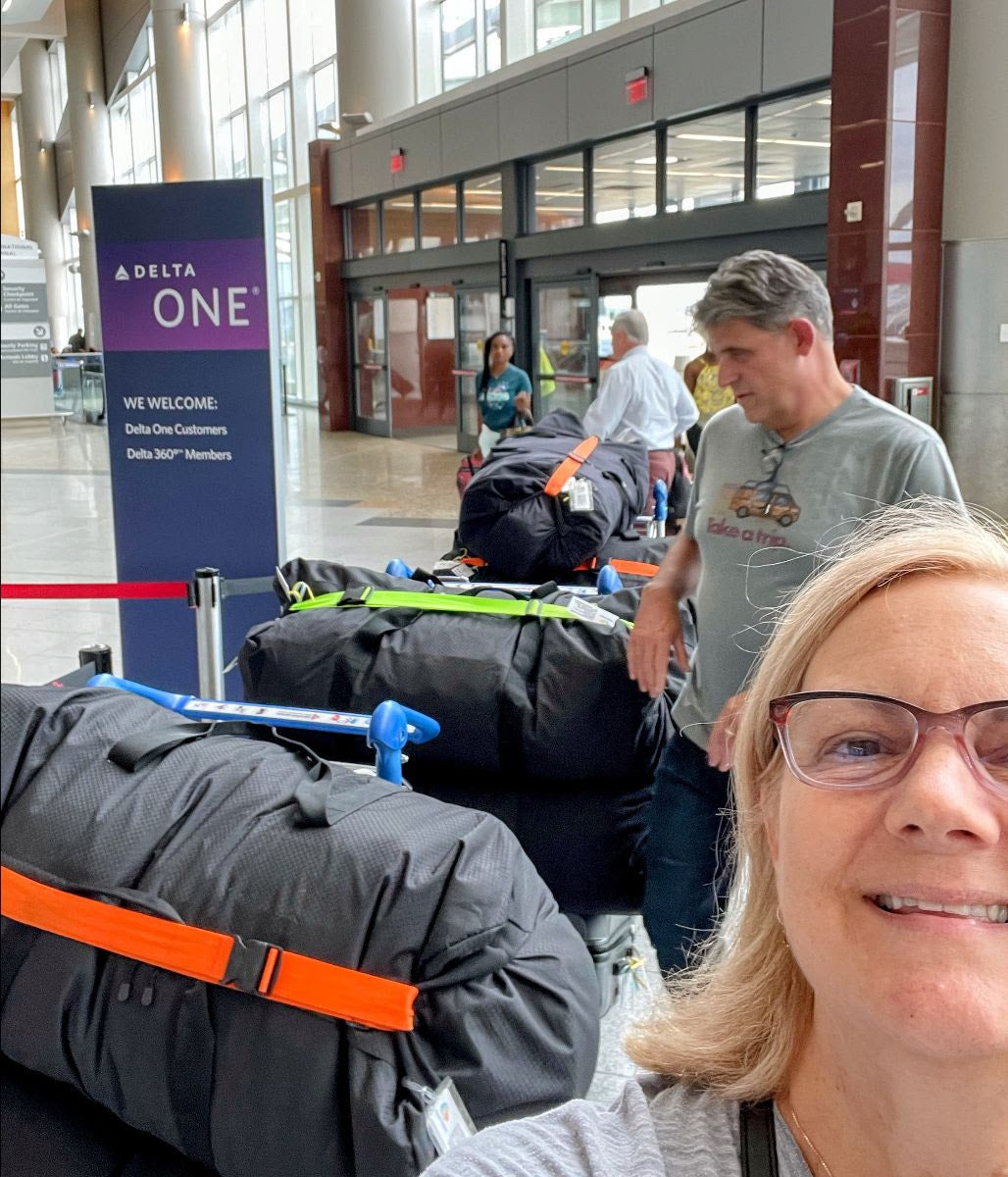 I just got back from Ukraine! It was a wonderful, yet bittersweet trip. My husband and I travelled to Poland to bring 700 + pounds of medical supplies, donated by generous people like you! After arriving safely with our 10 oversized duffle bags, we settled in to spend a long weekend in Warsaw. The weather was unbelievably hot, as Europe was in the tail-end of a summer-long heat wave. While Darrell made his Zoom calls, I traipsed around to all the local pharmacies in search of scar cream and potassium iodide radiation tablets, items that had just been requested by citizens fleeing the Zaporizhian Nuclear Power Plant region.
"Mom, I don't want War."
In the evening, we spent time at an outdoor exhibit, "Mom, I don't want War." Children's drawings were displayed and compared – drawings from WWII and from the War in Ukraine. Soon, our sunny weekend was over; Darrell headed off to Oslo for work, and I prepared for the second part of my journey… getting myself and all the supplies into Ukraine, and then onto meeting up with my team who was also making the trek to the Western part of the country, to meet up with me.
Are we there yet?
One of our Kompas Park volunteers, Brian, had been volunteering in Poland for the past 6 months and it was time for him to return to Ukraine, so he kindly agreed to take me and all my stuff across the border to meet up with my team – many of whom are Brian's friends too. We packed up his van (to the gills) and headed towards the border…even if we did take the long way around.
Border Crossings x 3,
Our first border crossing attempt ended in failure when we discovered an extremely long line of cars and trucks waiting to exit Poland and enter Ukraine. Upon further investigation, it turns out that the Polish Border Guard's computer system was down, and they didn't know when it would be back up. We decided to drive another couple of hours south and try the next border crossing. Unfortunately, this crossing was also completely packed and seemingly not moving at all. We thought that perhaps the third time's a charm and headed to the last border crossing – even though this meant driving yet another 2 hours south and zigzagging through the mountains. When we finally arrived, high up at the foot of the Carpathian Mountains we saw a beautiful border crossing building, and a pretty short line. Clearly no one knows about this little gem! The border guards were pleasant, and the Polish and Ukrainian guards shared an office and were working well together. We had a couple of slight issues, but after I convinced them that I was not a gun runner, we were finally let through into Ukraine.
Home is where the heart is…
As soon as we arrived, Brian whooped with joy to be back (for about 5 minutes straight) and I took in the sights and sounds that I had also missed very much. Familiar sights such as a huge stork's nest perched precariously atop an electrical pole brought me back to our carefree days of summer at Kompas Park camp and visits to the orphanage to spend time with the children. However, I noticed new sights too. War memorials and other monuments covered in protective sandbags, and "hedgehogs" or large metal tank traps lined up in front of railway stations and schools. Bus stops, normally dotted with grannies and housewives are now filled with men (seemingly of all ages) dressed in camouflage, either just home on leave, or heading off to report for duty.
Keep on Going…
Our drive continued on, and due to the fact that we were told that Google Maps and other navigation apps have been disabled for Ukrainian's own protection, (so as not to give away their location to the enemy) we used real paper maps that I had hastily printed out at our Warsaw hotel just before we left. Bumpy mile after mile (or kilometer, rather) we continued, and it grew darker and darker until it was absolutely pitch dark. Residents are asked to turn off all lights after dark – again for their own protection – and such a pitch-black sky looks even more beautiful when you can clearly see the constellations and almost touch the stars in the night sky. However, we also could not see pedestrians, dogs and cats walking along the never-ending curvy roads, until we were suddenly upon them. After several close calls, I found myself wishing that Eastern European clothing and footwear had reflective strips and spots sewn into the fabric like ours does back in the US of A.
Almost there
It's hard to stay awake after nearly 12 hours of driving, especially through dark winding mountain roads, but Brian did an amazing job. He certainly excelled when we turned onto the last "road" which would bring us down the mountain to the hotel that my team had long ago checked into. I say "road" because it was on Google Maps as a road, but clearly in reality it was more like a wide path that had been previously created as a result of a huge mud slide. Now dry as a bone, this "road" had developed very deep crevices, holes, and other scary things to fall into (or off of, no doubt) and the only way to navigate it was to pray continually, to idle up & down the steep hill, all the while going around the biggest and deepest holes. I soon concluded that this was some kind of old ski hill or service road that has long been abandoned. As we crested the top of the hill, we expected to look down into the valley to find a huge sign pointing "go over there" but all we saw was complete utter darkness. We sighed and continued on until finally the hill stopped going up, and even more scarily, started going down. After some time, it felt like we were leveling out (we had already bottomed out several times) and we started to see a few twinkling lights. Then we came to a scary, very narrow little bridge. It was so old, that Brian decided he needed to get out and walk (or bounce) across it to see if it would hold the weight of our extremely overladen van. After deeming it would hold at least 150 pounds, he gunned the engine, and we flew across only to find ourselves suddenly in the parking lot of our hotel! Yep – we were on an old unused service road; someone needs to let Google Maps know…
Home at Last!
After finally figuring how to get into the hotel, we found several of our sleepy team members who were waiting up for us. It was such a happy moment for me to finally see and hug these precious souls, most of whom I have not seen since October of last year. After many happy tears, smiling until our faces hurt, we decided to reconvene our reunion the next day. We were able to spend 4 wonderful days together at a wellness resort, where our Ukrainian team members each saw a doctor (before Brian and I arrived) who then prepared an individual health plan for each person. This plan included drinking special mineral waters (local to the area) plus other "treatments" such as saunas, cryotherapy, oxygenated blood IV's, swimming in freezing cold water, massage, shower buckets, cosmetology procedures, hydrotherapy and for me, playing with cats. Oh, and the food was really good too. Our team members, who have been serving in the war effort ever since February 24, really deserved this rest, pampering and relaxation. Something like this would be cost-prohibitive in the States, but in Ukraine, the cost of all of these "procedures" for each person was less than a meal out at a nice restaurant. They deserve it. In my next post, I'll tell you more about our trip plus give an update on the soldiers, children, and elderly we are serving in Ukraine. Until then, Andrei, who speaks excellent English, summed it up quite well. After the first day of our wellness break, I casually asked him – "Hey, How are you?" Andrei replied, "I am feeling so great, that I don't even have enough vocabulary to tell you. Thank you so much for this break!" Thank you for your encouragement and support of our wonderful Ukrainian team!