Sneakers needed! Send a pair to an Orphan in need!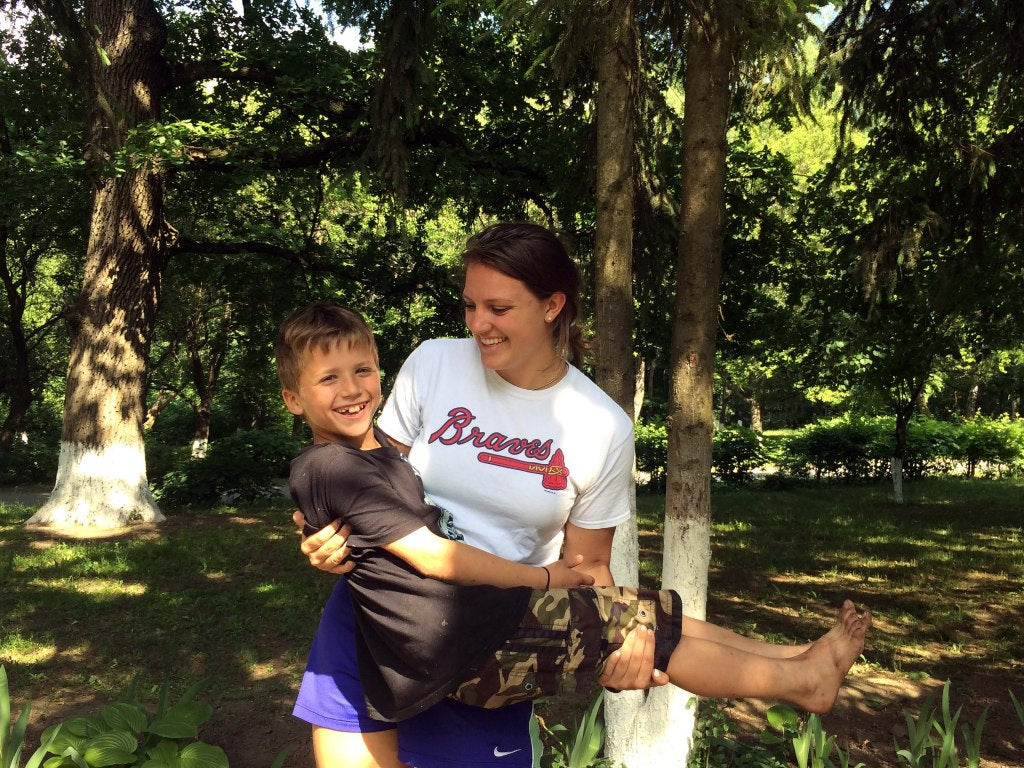 I remember last May, when my mom and I had just completed the first week of camp for the summer: Shpola Orphanage Kids Camp. After a wonderful week of being with the children, hearing their stories, and building relationships, we realized that one physical item they were in dire need of was decent shoes. Already being in Ukraine, we quickly realized that our only option to solve this problem for upcoming camps was to buy shoes in Ukraine. Initially, we were happy about this fact -  Ukrainian shoes would be much cheaper than ones bought in the USA, and then we wouldn't have to lug them all the way across the world with our already limited luggage space. 
We checked out the local, open-air market with one of our Ukrainian friends who would help us sift through the lower quality material that is usually presented at such markets. We had high hopes of finding some new tennis shoes for the children. However, after what seemed like hours of bouncing from one market stall to the next, we were unsuccessful. Almost every pair of sneakers we found was obviously very cheaply made, marked with a slightly adjusted Nike symbol, racking up the price. We weighed the pros and cons. We could buy these shoes, and the children would have them immediately. They would work -  for simple activities such as walking to class, but not much more than that. The shoes would end up hurting their feet and falling apart in a matter of days, only elevating the already existing problem of blistered feet and broken shoes. We knew we couldn't idly sit back and watch this problem grow; something had to change next year for the children we love.
When my mom asked the orphanage director what the biggest physical need was for the children, he specifically said shoes from America. He said that Ukrainian shoes are made to a much lower standard than American ones and would fall apart in about a week. I want to be clear in saying that as an organization, Hope Now doesn't believe that all things made in the USA are better than Ukrainian. In fact, we lean towards using Ukrainian items the majority of the time, in order to build up the existing communities. There are exceptions, however. Ukrainian children are given the opportunity to taste American candy and wear American apparel due to the support of our sponsors who send over these things. And sneakers made for the USA market are just better quality.  We believe that carrying these items across the world is of value because of the reasons listed above. 
Summer is quickly approaching. Spring is blooming already in the Southeast (praise the Lord! This is why we live here... Spring comes in February :) The kids at Shpola are already anticipating their second summer at Kompas Park camps, many of whom experienced "the best week of their lives" last year. Kompas Park is an active camp, where children run, jump on the trampoline, play soccer, and many more physical activities that require good sneakers. 
Would you help a child to receive a lasting pair of shoes this year? We have put together a list of suitable shoes on Amazon with the correct sizes so you don't have to figure that out. That way you can purchase a pair directly from this link and have them shipped to the office in Atlanta.
Choose and Buy Recommended Shoes for an Orphan - click here
We will gladly take them to Ukraine and put them on the feet of an orphan who needs them. If you include your name and address you may even get a thank you note from the child who receives the shoes. You can even specify if you want to give the shoes directly to your sponsored child.
Personally, I am SO thrilled to be able to spend time again in Ukraine this summer. Even though it is less time than I would prefer, I am beyond excited to be back with some of my best friends, serving at Kompas Park once again. If it wasn't for you – the amazing Hope Now sponsors – camp would not happen -- and I am truly grateful for everything y'all do for my mom.
May the Lord bless your efforts in advancing the Kingdom of God here on Earth. 
Until He returns, 
Zoë Knight
Camp Volunteer