The camp I didn't want to do... Sophia School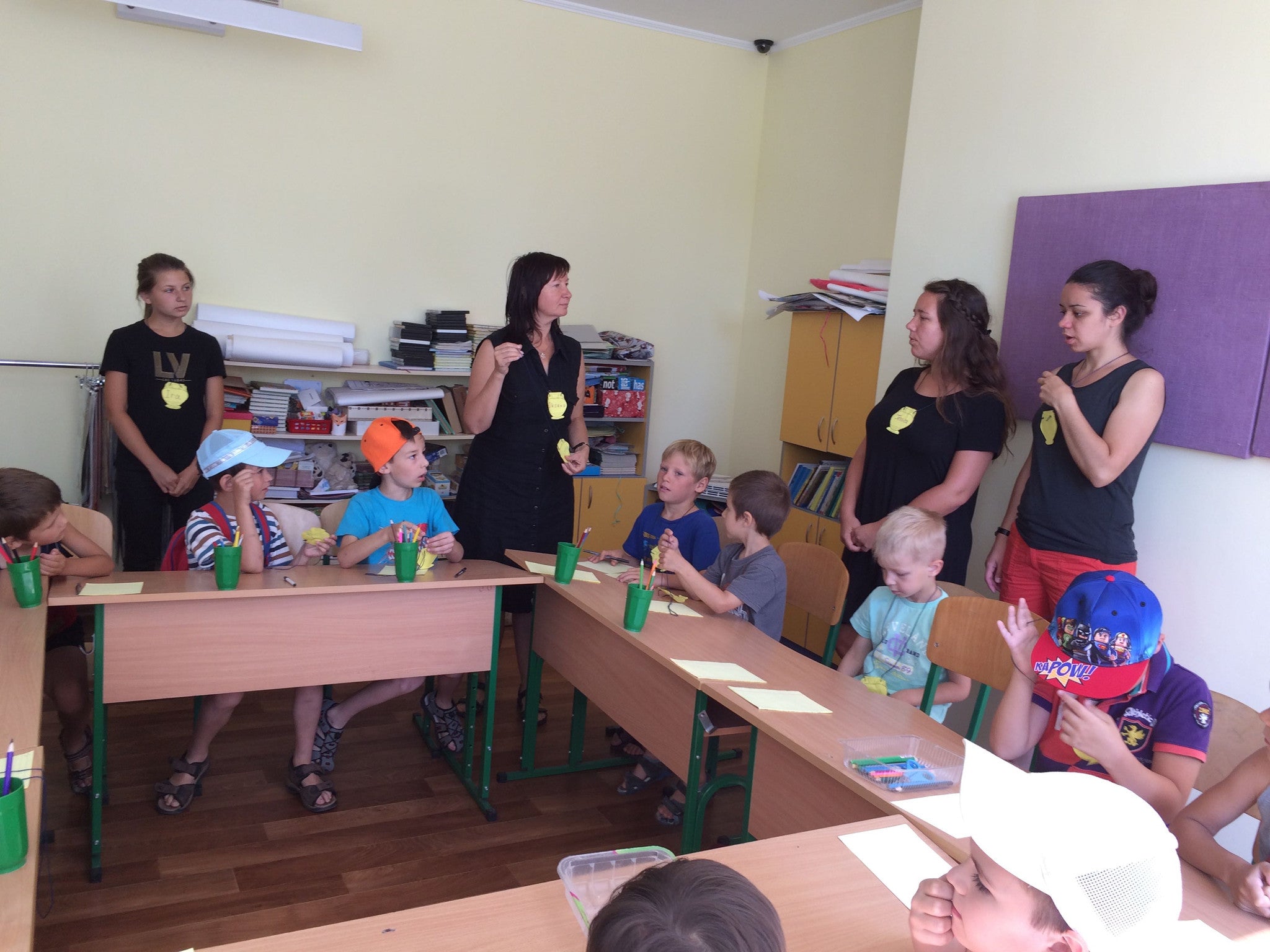 This summer, Hope Now USA worked alongside the only Christian school in Cherkassy, the Sophia School, to put on a week-long English Language Camp for their students. Five years ago, this school grew out of a desire for Christian education and it has struggled, met challenges and grown. To be honest, back in March, when the school's principal Nataliya Yebutushenko met with me, scheduling another week of summer camp was the last thing I wanted to do.

I had gone to Sophia seeking advice and to collaborate with the staff on a new teaching ministry idea God gave me. I was so excited to tell the teachers all about my plans of a Teaching Triangle; whereby 3 teachers are connected in a sponsor/mentor/prayer partner kind of way. I felt God telling me to connect my teacher friends in the USA with Christian teachers in Cherkassy, who would then be paired with isolated orphanage teachers. I explained my idea briefly, but at that moment there was only one thing on their minds and it wasn't learning about a new ministry.

Many times, when I visit schools in Ukraine, folks ask me to teach English or organize a camp. Native speakers are in demand and my volunteers and I have spent many hours teaching English at local schools. So, I wasn't surprised when Nataliya said they needed native speakers for their summer camp and asked me to help. But I was a little irritated when she told me why…

For the past 4 years, a well-meaning church from Minnesota came to Sophia and led a week-long camp in English – a Vacation Bible School or VBS style camp. Typically, mission trip groups who come from the States provide everything. They bring their "VBS in a box" complete with schedule, curriculum, decorations, music, costumes, crafts, matching t-shirts, even Goldfish® crackers! Everything is pre-done with a well thought out theme. The Americans normally run everything and the Ukrainians usually stand back in awe or perhaps translate. This is textbook When Helping Hurts[1] and it is not good!
Nataliya told me that the Minnesotans had decided to do their camp at a large state school across town this year, but Sophia was welcome to join them. They were devastated. They didn't want to participate since the founders worked so hard to offer a Christian environment as an alternative to secular schooling, plus the location was too far away. They wanted a "VBS in a box" replacement, because they believed they couldn't create something as grand and compelling on their own. They wanted me to do everything and when I said no, they politely dropped the subject.

Over tea, I got to know the staff, by listening to their stories about how they came to Sophia and the challenges they faced starting a new school in a heroin infested area. I could feel their dedication to the students and families they served, but most of all I could feel their love for the Lord. God was telling me something. Then, I heard myself say that perhaps I could help them after all. The camp dates they suggested, happened to work for me. I also happened to have 5 experienced camp counselors available that week. Initially, Nataliya wanted me to direct them, but with strong encouragement, a lot of prayer and a little persuasion, she agreed to form a team and create the school's first ever summer camp curriculum. The USA team would be her team's helpers – not the other way around.

Three months and many prayers later, the Sophia staff put the finishing touches on their VBS, based on the theme "God is the Potter; We are the Clay." When our USA team arrived for our pre-camp meeting, we saw how hard they had worked and how nervous they were. We collaborated together and tweaked the program. We brought candy, small prizes, costumes for the Bible dramas and songs (but no Goldfish®!) Together as one team, we made improvements when we experienced snags and moved forward. We were all on the same learning curve together. You can see from the photos, what a blessing this camp was to the 41 children we served, and what a great time everyone had!

I was still a bit irritated at the Minnesotans – even though I grew up there – and I wanted them to know what a fantastic job the Sophia staff did creating their first camp. God gave me that opportunity, because they came to the same church I did the next Sunday. (It's the only church that provides English translation, so many foreigners attend.) I asked why they switched locations. They excitedly said the state school had invited them back after 5 years of silence. Apparently, the last time this church held a camp there, they were "too religious" and were told not to come back, so they found a new host in Sophia. They said they felt a little bad for Nataliya, but it was an opportunity to reach more children than at Sophia, and to get the Gospel back into the state school so they accepted this second chance. They had to rush off, so I don't think they really heard me as I was extolling the virtues of the Sophia staff and the excellent job they did creating their own VBS from scratch, but that's OK. God knows.

And guess what? I'll be returning to Sophia again in September. I'm looking forward to seeing my new friends on staff and the students as they kick off the new school year. You guessed it! I'll be popping in to teach English for the day – and they've asked me to present my Teaching Triangle ministry idea too. I'm so thankful God works everything for good.


[1] Corbett, Steve, and Brian Fikkert. When Helping Hurts: How to Alleviate Poverty without Hurting the Poor-- and Yourself. Chicago, IL: Moody, 2009. Print.