This is Ukraine today – shot with our own cameras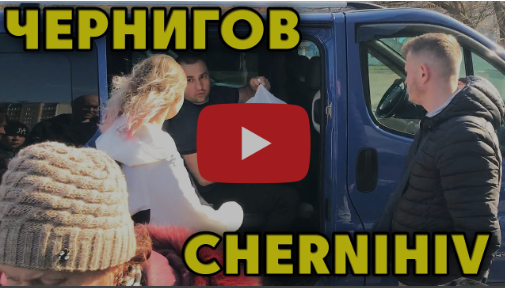 This is Ukraine today – shot with our own cameras
One of the big differences of working with a huge, global NGO and a small, focused charity like Hope Now, is that we can tell you (and even show you!) where your donations end up and who they are helping. Take a few minutes and click on the video above, to see how your donations make their way across the border, into the hands of desperate Ukrainians trying to survive in the bombed-out city of Chernihiv.
Tracking your Donations
 As the video shows, this is how your donations get into the hands that need them:
You send donated medical supplies or other items to us at Hope Now USA in Atlanta
We physically bring those items by plane from Atlanta to Romania
Upon arrival, our Romanian-based volunteers Sergi and Yuri, drive those items across the border and into Western Ukraine (then they return to Romania to collect additional humanitarian aid sent from USA & Europe)
We transfer the donations to our Ukrainian-based team Yaroslav and Oleg, in Western Ukraine, who then drive it 10 hours into Central Ukraine
Yaroslav & Oleg also pick up food and humanitarian aid from warehouses in various locations, then bring this to our central warehouse
Food, humanitarian aid and medicines are gathered together at Pastor Anatoly's house
Our local Cherkasy Spring of Life Church team assembles food packages to be given to those in need, and bags are packed into vans pulling small trailers.
Medicines are gathered for distribution separately, along with other items such as socks, underwear, baby items, etc.…
Pastors and church members pray and send the vans & trailers North on their way.  They will have to drive past Kyiv to reach Chernihiv.
After an arduous 5-hour journey, they arrive to the meeting point where Chernihiv residents have gathered and are waiting
Team members organize people into lines, and check off their names on a list
Even though over 3 tons of food was brought, it disappears within an hour, and we still don't have enough. Another trip will have to be made soon.
From Orphans to Soldiers
Many of our brave, young soldiers come from orphanages, including our dear Bogdan who just turned 20. "Sadly, I have lost several of my friends – my fellow fighters – in this horrible war, but we keep going on. We must win! Ukraine must survive." Many of our pastors and team members are distributing the tactical military First Aid Kits many of you donated to soldiers defending the territory on the front lines, and well as in central Ukraine. This is just one tangible way our donors in America can really help the boots on the ground. Thank you for your support and prayers for Bogdan and all the other soldiers defending Ukraine, now and always.