Ukrainian Soldier's Christmas List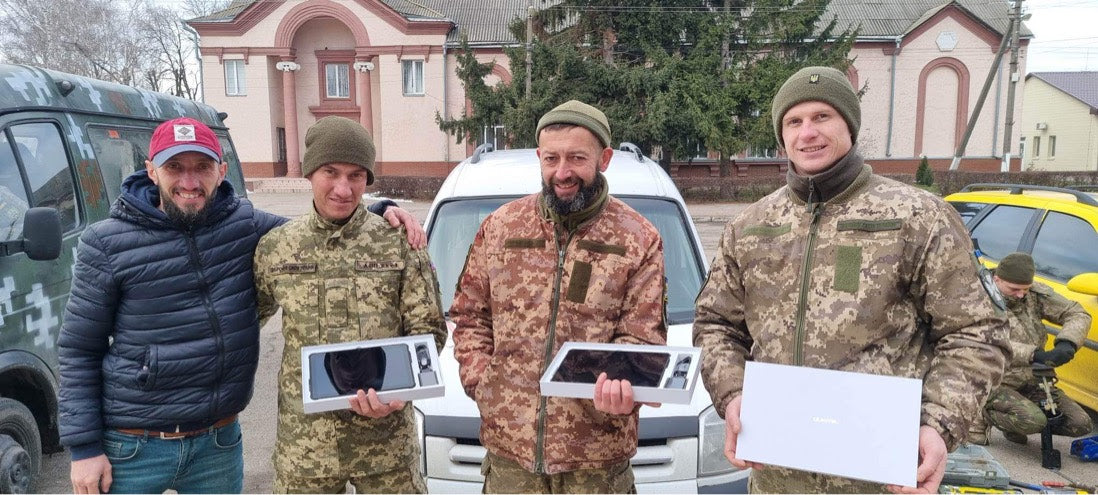 Did you get what you wanted for Christmas?
All I want for Christmas is _____________. Your 2 front teeth? A curly head doll that cuddles and coos? Elephants, boats, and kiddy cars too? Or maybe an Xbox, Apple Watch 8 or personalized wine chiller was at the top of your list? Last month, the brave soldiers in Ukraine had a much different Christmas list than in previous years. The hottest gift items included drones, tablets, generators, binoculars, heat sensors, solar charged power banks and thermal underwear. Thanks to God and your generous donations, Hope Now was able to "play Santa Claus" and provide many of these items to Ukrainian soldiers defending their country.
Bakhmut, Kherson and all across the Frontlines
Our brave volunteers sourced and secured many pieces of equipment to help Ukrainian soldiers defend their territory. Some of it came from Europe, and some came from the USA – but none of it would have been possible without donations from people just like you. At first, reaching these goals seemed too big. But nothing is impossible for our God. So, generators were located and purchased – same thing with drones, heat sensors and other pieces of equipment. So many needs were met!
Load It Up & Start Driving
Soldier's faces from Bachmut to Kherson lit up when our vans showed up again – this time bringing much needed equipment PLUS Christmas presents for the soldiers. In addition to bringing new wool socks and sets of thermals for each soldier, we also brought Bags of Blessings. Some soldiers were at base camp, and they were happy to pose for photos to show their appreciation. Others, who were on active duty at that moment, had their Bag of Blessing waiting patiently for them whenever they arrived back at their bunk.

Message from Afar
One soldier even took the time to write us a personal message on WhatsApp – in English! He found the Hope Now phone number on the checklist inside his Bag of Blessing, and this is what he wrote to us: "Many thanks from 18 sappers of the 42nd battalion!" He took a photo of the letter & Christmas card from the American donors that he received inside his bag. What a wonderful message indeed! Still another military unit made a 30 second video thank you note, to show their gratitude for the wonderful Bags of Blessings they received. Click on the RED bar below to watch this short but sweet video.
Your Support is Still Needed
Every day, we receive new requests for help from soldiers all across Ukraine. Many of our own "aged-out orphan graduates" have turned to the military to replace the familiar institutionalized setting of the orphanage, hoping this will mimic the family setting they crave so much. We also know many medics and soldiers personally through our ministry – many men (and some women) from local churches and all walks of life reported for duty (320 days ago!) and took up arms to defend their land. Each of our own volunteers in Ukraine personally has a close friend or relative serving in the Ukrainian army. Over the years, hundreds of American volunteers have gone to Ukraine with Hope Now on a mission trip – so many of you also personally know many of the people we are serving each day. Please keep praying for a complete victory for Ukraine and consider donating to help us keep serving the Ukrainian people in 2023. Slava Ukraini!