Update! New Windows Coming soon!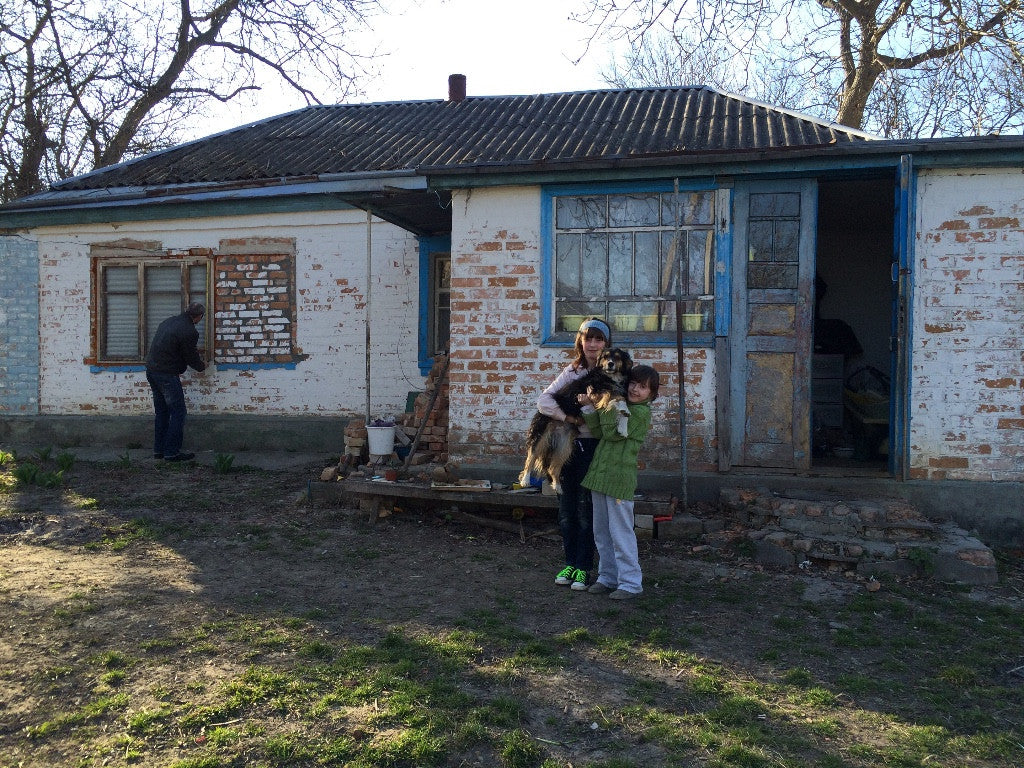 We had a great day today in Ukraine!  Last month, I introduced you to a widow named Valeria and her two young daughters who stay at Shpola Orphanage.  Today, Inna and I paid another visit to Valeria's home in Lebedyn.  This time Pastor Sasha from the local church came with us to measure the window that will soon be replaced. Initially, Valeria didn't want anyone from the church to help her, as she is currently exploring other beliefs, and has gone away from Christianity.  However, I explained to her that since we are a Christian organization, we intentionally involve the local church in our work, and she accepts this.  We really hope and pray that Pastor Sasha and his crew can be the bridge to bring her back.
While Pastor Sasha was measuring the window, the girls gave us a bandura concert!  Both Ananda and Hima can play this very old instrument – which is so complicated with many, many strings!  The house was so cold inside, however, the girls had a hard time plucking the strings.  The broken window and poor heat source (a partially functioning old wood stove) made the home cold and dank.  It was warmer outside, so the girls gave us a tour of the property, and it's many small buildings, which are all in various states of disrepair.  The girls were at home with their mother for the week, because it is Spring Break at the orphanage and all children who have a guardian are released to them. We also brought the family a huge food parcel as well, and it's a good thing, because we did not see any other food in the home.  Ananda and Hima's USA sponsors sent along Easter gifts for the girls, and they enjoyed opening them, and reading the letters and seeing their photos.
After our visit to Valeria's home, Pastor Sasha invited us back to his home for tea and to meet his family.  We were running very late, and really didn't have time to stop but his son David, heard there was a real American visiting in the village and he really wanted to meet me.  I am so glad we made the time to be with this precious family. Pastor Sasha and his wife Natasha have 5 children: Gloria, David, Sophia, Mark, and baby Darius.  What an enormous difference between their home and Valeria's home!  Both homes are quite old, but Pastor Sasha's home was at least 30 degrees warmer – and almost tropical!  He and his wife did not know we were coming, but they offered us homemade apple jam, bread and tea and we had a wonderful time getting to know them and all their children, and learning more about their village. 
I remembered that there are several children from Shpola orphanage who have their official address listed as Lebedyn, and they must be "at home" during Spring and Fall holidays like the Kliminas.  Just then, God gave me an idea to propose an English language camp at Pastor Sasha's church, during Fall break.  We could invite all the kids from the village, including the Shpola kids who are sent home to Lebedyn, who probably do not have enough to eat or anything much to do.  The church has a lovely big territory for games and BBQ, and the weather will still be good.  Pastor Sasha said that he and his church have done camps like this with British friends in the past, and I asked who – of course I know them through Hope Now – and I intend to contact them to see if they will come and participate.  Pastor Sasha and his family are so excited about the possibility of a camp like this, that can welcome the Shpola orphans into his church community.  Thank you God, for drawing together orphans, families and community!