Wedding Bells, Air Raid Sirens and a New Family...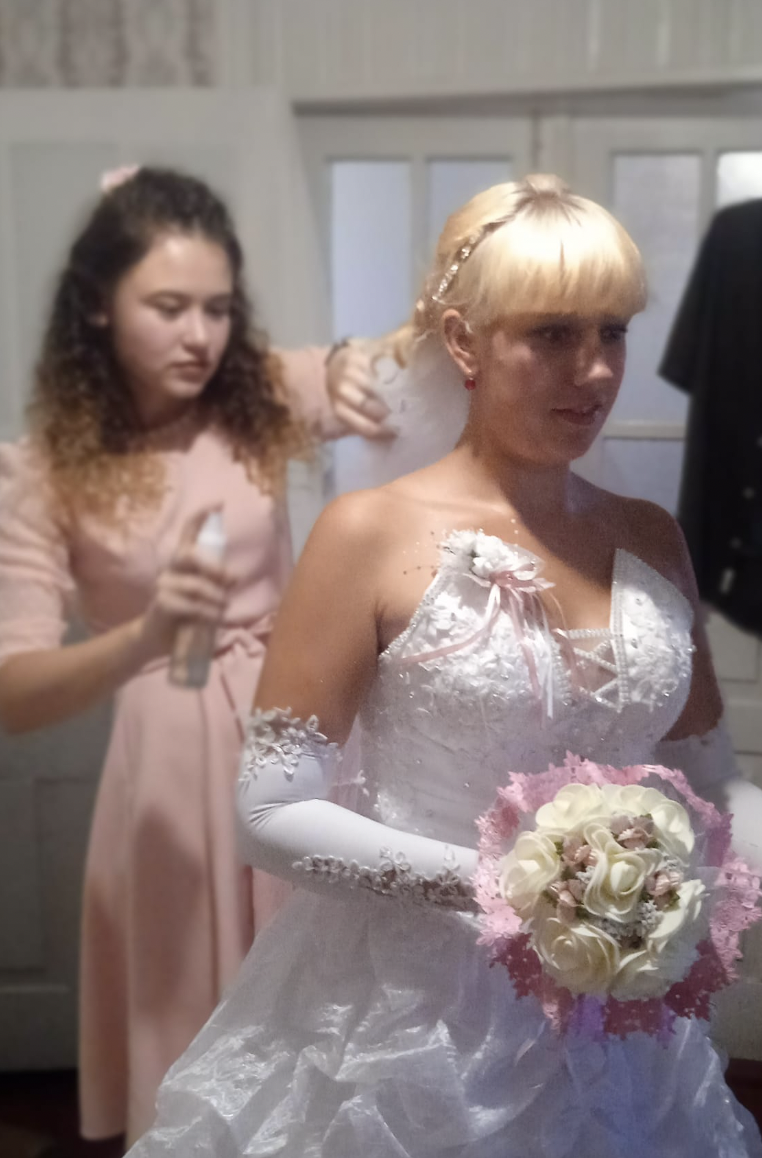 Oksana's childhood dreams are beginning to come true. And it all started during the war. Indeed, God works in mysterious ways.

For behold, I am making all things new.  Isaiah 43:18
School Pictures for the First Time
When I met Oksana nine years ago, she was a naïve 9th grader at Shpola Orphanage, where so much of our work is done. Clothed in newly donated school uniforms from my former employer, Greater Atlanta Christian School, we took school photos and class pictures for the first time. Many of the children didn't know what to make of this – should they smile or not?
Graduation after 9th Grade?
Immediately following Oksana's 9th Grade Graduation, she returned to her village where she tried to eke out an existence. Very quicky, she followed in the footsteps of most of her friends and relatives and moved in with a local man from the village. Shortly thereafter, she found herself starting a family and quickly had two children out of wedlock. Oksana maintained spotty contact with her orphanage classmates over the years, including Sasha – who lives with me, as she is here in the USA on a student visa. As I was busy packing medical supplies and other essentials for widows, orphans and soldiers, Sasha asked me if she could make up a care package for Oksana and her kids. Sure! What a great idea!
Care Package Evangelism
Oksana lives in a village not far from our dear Pastor Genchu, so he would be the one to deliver the care package. After he received our latest delivery of duffle bags, containing all kinds of life-saving wonderful aid for the war effort, he discovered the packages for Oksana. A quick telephone call to get directions on how to find her, and Pastor Genchu soon delivered her surprise. This care package was an important vehicle for Pastor Genchu to build trust with Oksana, who has been sorely disappointed by the church in the past. Sasha also started communicating with Oksana on a regular basis and shared the gospel and encouraged her to go to Pastor Genchu's church.
New Friends
Additional humanitarian aid visits were made, with more time for Pastor Genchu to build a relationship with Oksana and her boyfriend Andrei. Soon, Oksana was going to church. It turns out that Andrei's sister also liked to attend Pastor Genchu's church from time to time, as well! Oksana started talking to Pastor Genchu about wanting to be baptized. But he said no. Well, at least not yet. First Oksana had to learn much more about what it means to be a follower of Jesus – and he suggested that she get married first! Her dream of a fairytale wedding (even in the midst of a war) was coming true!
Wedding Bells are Ringing
A couple of weeks ago, Oksana's dream wedding took place – with help from the entire Genchu family. They, along with 2.5 million other Ukrainians, have decided to come back to Ukraine. Together, they can minister to the many, many people who are now looking to Christ for answers, comfort, and support during the war. Most churches report record attendance – the harvest is great, but the workers are few. Pastors and missionaries all across Ukraine are busy like never before. In addition to the Genchu family, Oksana has found an even larger family to call home.
Sixteen New Souls
This past Sunday, 16 people in Pastor Genchu's small village church were baptized – including Oksana. A lovely day, full of sunshine and without the constant air raid sirens, was enjoyed by all. God's presence and protection was truly felt. Now Oksana, has an even bigger family; one that will stick with her throughout any trials. She feels love, support and security as a Believer in Christ.
 
Therefore, if anyone is in Christ, the new creation has come: The old has gone, the new is here!
2 Corinthians 5:17